Walmart/Sally Beauty Haul May 2013
Best Birthday Presents! Nail polish!
I went totally crazy when I was allowed to pick out my own presents from Walmart and Sally Beauty. I had never looked at the nail polish selection at Walmart before, it is HUGE! I usually am all business while at Walmart, so it took me by surprise that they had so many brands throughout the make-up brands PLUS a whole wall of other miscellaneous brands such as Essie, Hard Candy, Milani, Nicole by Opi, Sinful Colors, Sally Hansen, Pure Ice, etc. And they were all mostly $4 a bottle and under!
Needless to say my entire nail art supply collection no longer fits in my old bin!
Pastel polish haul from Walmart from left to right:
Sinful Colors – Snow Me White
Pure Ice – Love
Sally Hansen – Mellow Yellow (xtreme wear)
Maybelline – Green with Envy (color show)
Sally Hansen – Blue-Away (insta-dri)
Maybelline – Iced Queen (color show)
Glitter polish haul from Walmart (and China Glaze from Sally Beauty) from left to right:
China Glaze – Ruby Pumps
Hard Candy – Fireworks
Hard Candy – Pink Taffy
Hard Candy – Gummy Green
Pure Ice – Never Satisfied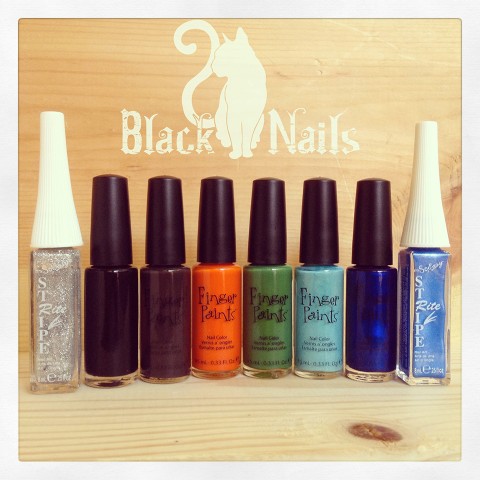 Striper polish haul from Sally Beauty from left to right:
So Easy – Silver (stripe rite)
Finger Paints – Ch-art-coal Black
Finger Paints – You're Kiln Me
Finger Paints – Caric-art-ure
Finger Paints – Art Hue Serious?
Finger Paints – Hue Gotta Be Kidding Me
Finger Paints – Royal Renoir
So Easy – Blue Metallic (stripe rite)
Related Posts - More Nails!