Pink Glitter Galaxy Nail Art

This is now my third attempt at colored galaxy nails – and I think they came out MUCH better than my previous attempts (which you can see here and here). The only real difference in my approach was to use a make-up sponge instead of a kitchen sponge and to use even thinner and lighter layers, and tons more colors for added dimension.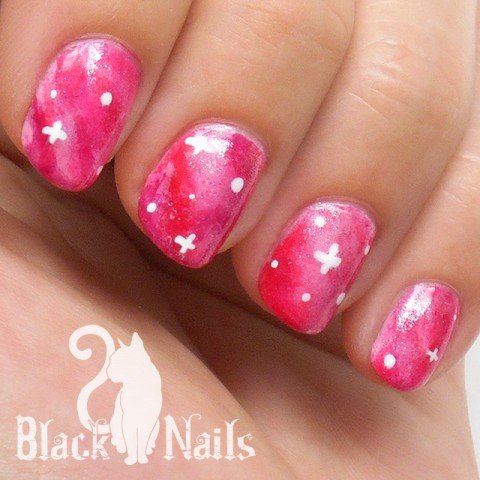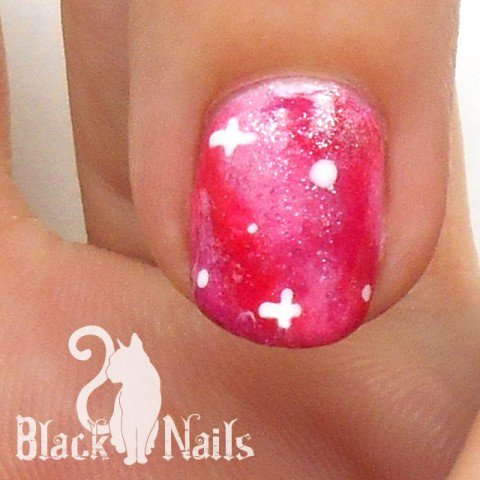 I really broke out ALL the pinks for this design – I think I used about eight different shades of pink in the end! But pink being my favorite color, this is probably only one-third of my collection of pinks and reds. To be honest I'm still not 100% happy with my galaxy nails yet, but each try is getting better and that's not bad. I wonder what color I will try next…?
Then because I can't leave well enough alone, this happened… I used Pure Ice's "Speechless" to create the lines. I did this just for line practice using a stripping brush. But I kinda like how it came out.
Pink Glitter Galaxy Design – Get The Look
For this look I used ALL THE PINKS:
Sinful Colors – Cream Pink
Maybelline – PInk Shock (color show)
Sally Hansen – Pink Promise (diamond strength)
Wet n Wild – Lavender Creme
Wet n Wild – Tickled Pink
Sinful Colors – Ruby Ruby
China Glaze – Ahoy!
Pure Ice – Speechless (used for lines)
Sinful Colors – Snow Me White
Make-up sponge
Bundle Monster – Small and medium dotting tool
No Brand – Thin, small detailing brush (size #00)
Seche Vite – Dry Fast Top Coat