Sally Hansen Fuzzy Coat Review & Design Ideas
Finally got a chance to try out these great bar glitter polishes from Sally Hansen called Fuzzy Coat. At first I had only purchased two, but I loved those so much I went back for a third pink one. I wish I could take them all home with me!
Review
Price – About $6.00 – $8.00 from mass drug stores and on Amazon
Description – These are colored bar glitters, usually two per bottle, in a clear base
Best Use – Glitter topper
Size – 0.31 oz/9.17 ml
Packaging – Elongated polish bottle with a chrome cap.
Brush – Slightly longer than standard sized brush (probably to compensate for the longer bottle).
Ingredients – 3-Free.
Cruelty Free – Not tested on animals.
Formula – Medium thickness, will probably eventually need a little thinning. Glitter is easy to work with and spreads out evenly
Opacity – Does not go on opaque without at least 4-6 coats, but looks good with just 1 coat and even better every layer you add on! I like it best with just two thin coats.
Color – True to bottle
Dry Time – Like most glitter fairly fast, about 7 minutes to tacky and 15 minutes to dry.
Durability – Lasts crazy long. Mine didn't chip for about 6 days and I am very hard on my hands.
Removal – Not fun, unless you use a good glitter removal method and pure acetone, or better yet DIY Gentle Glycerin Acetone
Staining – None that I noticed.
Ease of Use – Actually fairly easy to use, but it can be a bit tricky at first learning to get an even coat. Just took me a few nails of practice to get the hang of it. The dabble method works well here.
Recommend It – Yes, I really love these! They are a super fun addition to my nail polish collection. Very unique.
Tips
Experiment on paper layering over different colors, these are really fun to play with and look great over all sorts of colors
Use the dabble method if you want to get a thick coat fast
Cover with two thicker coats of clear top coat if you want a smooth finish. Otherwise you will  have a "fuzzy" texture, which I don't mind at all and actually liked
Use a good glitter removal method with DIY Gentle Glycerin Acetone so you don't dry out your cuticles but get the full power of 100% acetone for easy removal
Design Ideas
I had a lot of fun experimenting with these, there wasn't enough time to try out all of my ideas. Here is a another referee, black and white manicure since I had a scrimmage today: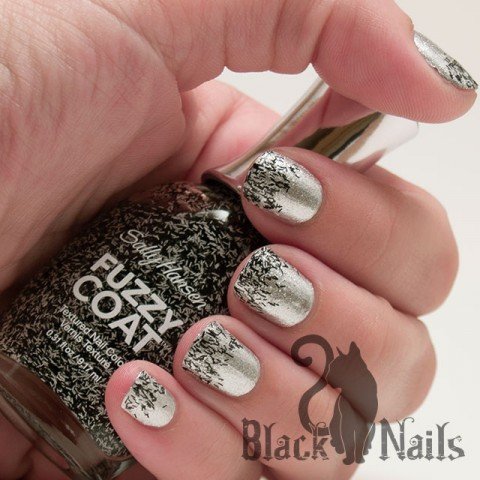 Tweedy Tip & Moons – Get The Look
For this look I used:
Orly – Dazzle (silver base)
Sally Hansen – Tweedy (fuzzy coat)
China Glaze – Liquid Leather (black for tips & moons on second look)
Nailene – French Tip Guides
Great for summer, mojito nails!
Mojito Fantasy – Get The Look
First paint your nails a white base, then using a wet sponge apply a white to green gradient. Fill in the gradient using lots of little green dots. Use two coats of fuzzy coat in a gradient effect on the top third of the nail. Put a thick line of clear polish on your nail tip and dip in white glitter to create a 'sugar rim'. Put a lime on it, so refreshing!
For this look I used:
Sinful Colors – Snow Me White
Kleancolor – Neon Green
Sally Hansen – Fuzzy Fantasy (fuzzy coat)
Lime – Fimo/Polymer slices (from a nail wheel)
Craft Glitter – White
Bundle Monster – Small Dotting Tool
Kitchen sponge cut in pieces and dampened
Love the way this one turned out, so girly!
Woollite Princess – Get The Look
First paint your nails a base of light pink. Next using a damp sponge dabble a purple/pink/light pink gradient over your nails. Apply two even coats of fuzzy coat, then top with a iridescent glitter for added sparkle!
For this look I used:
Wet n Wild – Tickled Pink (wild shine)

Wet n Wild – Lavender Creme (wild shine)
Wet n Wild – On A Trip (megalast)
Sally Hansen – Wool Lite (fuzzy coat)
Wet n Wild – Hallucinate (wild shine)
Some links in this post are associated with affiliate link(s). I only endorse products, services or content that I have used myself and wouldn't hesitate to use again or recommend to a friend. If you end up purchasing anything I've used here on the blog, I hope you'll enjoy it as much as I do! To read the full disclosure click the button.