Full Review & Swatches – Sinful Colors Summer 2015 New Neons Collection
Today I have a picture heavy post of the Sinful Colors Limited Edition 2015 Summer "New Neons" Collection – "Bold, Vibrant, Must-Have Color." Full review and swatches of each of the six new Walgreens exclusive nail polishes. All have extremely similar, jelly-type formulas. To be honest these are kinda disappointing, although there are some stand-outs in the bunch. However, if you don't have any jelly neons in your collection, you might want to try a couple of these.
Sinful Colors Summer 2015 New Neons Collection Swatches
For all of these swatches I used a clear basecoat, no undie (NO white base coat), and also no topcoat. I always want you to be able to see the polish on its own. These are all thin, sheer formulas so I used three thin coats, unless otherwise noted. Neons are notoriously hard to photograph, and especially for me since I'm using my iPhone (NEW DLSR IS ON ITS WAY RIGHT NOW – MUAHAHAHAHA!!). I went for true polish color rather than true skin color – so please ignore my green skin on a couple of the polishes.
First up I want to show you the three "pinks", Bright B4 Ur Eyes, Bright to the Point and NeON and On. I think Sinful Colors did themselves a disservice with the packaging this time, because the bottle wrappings for these three all look extremely similar, even though in reality they are very different. I'm sure this put a lot of people off of buying all of the pinks, or maybe trying even one. With this "New Neon" collection you can't see through the bottle to see the polish color like you can with most Sinful Colors polishes. Instead there is a plastic wrapping and you can only see the true colors on the bottom through thick, distorted glass. Or rather not at all. :/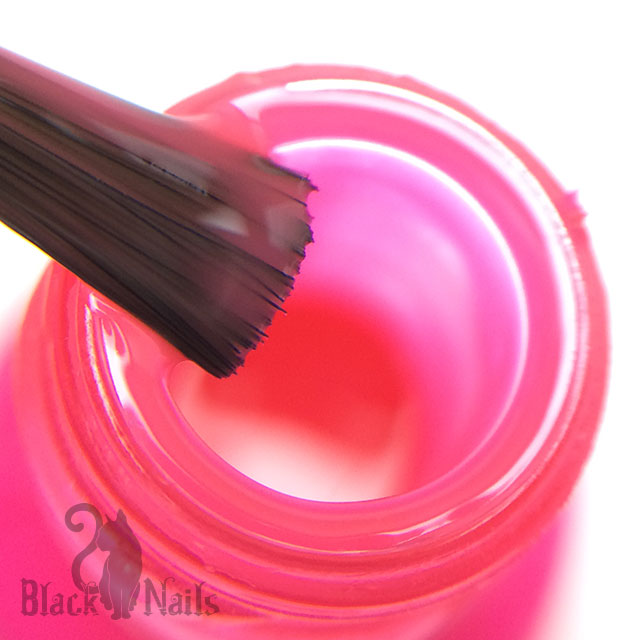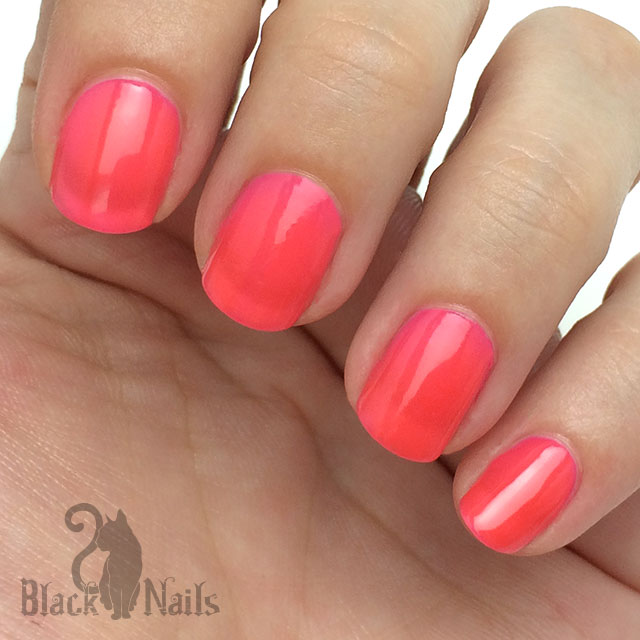 This first pink beauty above is Bright B4 Ur Eyes which is a medium-coral, pink polish with a jelly-ish formula. I don't feel that the color matches the bottle at all. It reads as a pinkish coral in real life. With three coats it is still slightly transparent and I actually am not sure how many coats it would take to be opaque – probably too many. But I really like this sheer coral look.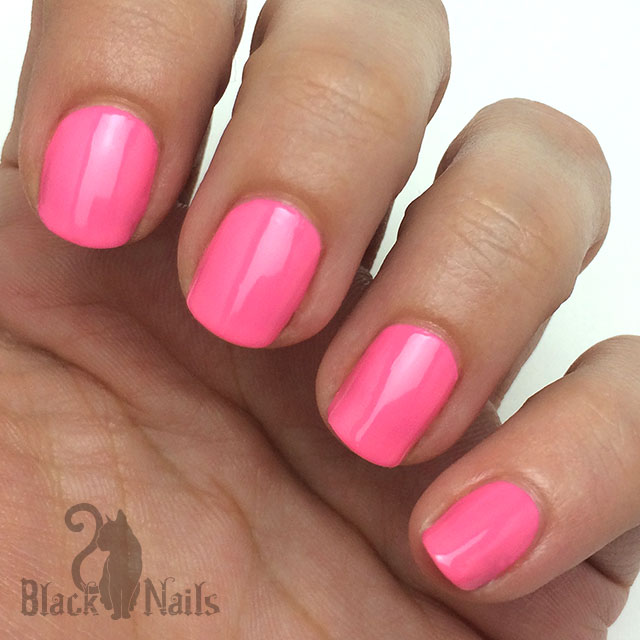 This is the second pink, a bubble-gum, bleached-neon pink called Bright to the Point. This is one of the colors where it was just impossible for me to get the color balance right so I made the color of the polish accurate. Please ignore the weird hue of my skin. 😉 In the macro shot you can see the color is correct – and the jelly-thinness of the formula. However the polish color does match the bottle wrapping, as you can see. I do like this one – but it took four thin coats to get this opaque coverage.
And the last of the three pinks is this juicy berry, purple-pink called NeON and On. The color of this polish also looks really close to the bottle and is sheer with three coats. This is probably my second favorite of the six colors, and my favorite pink for sure.
Rays of Bright is a medium tangerine jelly polish. I LOVE IT SO MUCH! So squishy and juicy – this is my favorite in the bunch. It's tangerine orange with a bit of yellow. As you can see it doesn't match the bottle at all, which looks more like a highlighter, while the polish looks more like fresh squeezed orange juice. Slightly sheer with three coats.
Next is a the most vibrant of the polishes, an orange-red called Vivid a Try. At first glance this one looks similar to Bright B4 Ur Eyes, but this one is much more orange and rich, like it's sexy older sister. Slightly sheer with three coats as shown here, and does build to opacity with four coats.
And last, this is the yellow of the collection, a bright highlighter-yellow called The Bright Thing. Like so many neon yellows this one is a little bit streaky, but not much. It shows much less in real life – but in the photo above you can see some streaks on my pinky finger. Here I used four thin coats but I still am not happy with the way it looks. Can probably skip on this one just based on the formula alone.
Sinful Colors New Neons Summer 2015 Nail Polish Review
This review will cover the six new neons only since they all have extremely similar formulas. The other, re-promoted shades are all classic Sinful Colors cream formula polishes so you can assume the typical Sinful Colors quality on those.
Sinful Colors New Neons Quick Review/Overview
Sinful Colors New Neons Review
What's it like to use this polish? Formula

Is it easy to get off or is it glitter hell? Removal (1 hard, 5 easy)

How long does this stuff last? Durability

Can I use this product guilt free? Environment

Do I really need it? Uniqueness

Will I feel like I got ripped off? Value
Summary
This polish collection is very similar to a sheer tints, just a little more opaque. All have extremely similar, jelly-type formulas that are not sticky. To be honest these are kinda disappointing, although there are some stand-outs in the bunch.
Sinful Colors New Neons In-Depth Review
Price – $1.99 at mass drug stores (or Walgreens for exclusives)
Official Site – Sinful Colors, New Neons Collections
Description – What I would call "bleached-neons" with a thin, sheer (jelly-ish type) formula.
Size – 0.5 oz/15 ml.
Packaging – Classic Sinful Colors slightly tapered, round glass bottle with a black cap.
Brush – Standard sized black brush.
Ingredients – 4-Free, ingredients listed on each bottle.

Cruelty Free – NO! Owned by Revlon and they DO test on animals. I no longer buy this brand for this reason.

Special Instructions – None.
Formula – They are almost like sheer tints, just slightly more opaque and they do not have a sticky formula.
Opacity – On a scale of 1 to 5 I would give these a 3, dead middle ground. The go on very similarly to sheer tints but slightly more opaque.
Color – All of the polishes in this collection are kind of "bleached-neon" colors that are transparent (not opaque) because of their jelly formulation.
Dry Time – Like most neons these are slightly matte, making for a really quick dry time. Tacky dry in about 5 minutes, and mostly dry in about 15 minutes.
Durability – These lasted for about 3-4 days before I saw minor chipping, and maybe 2-3 days before I saw tip wear.
Removal/Cleaning – Very easy to remove, even easier than a normal cream formula polish.
Staining – None that I noticed, but I'm suspicious of the orange "Vivid a Try".
Ease of Use – Very easy to use and layer up, with the exception of
Recommend It – I can't recommend a brand that tests on animals. You're free to judge the individual elements for yourself.
Sinful Colors New Neons Summer 2015 Environmental Details
GoodGuide – Unfortunately the Sinful colors nail polish range only averages a score of 2.8/10. The company itself didn't do much better, with a score of 2.3/10:

Health 4/10 – Contains ingredients that are bad for humans and the chemical trimellitic anhydride, which has a a few medium level health concerns.
Environment 3.2/10 – Pretty much bad all around and they received a 0/10 on transparency in this category.
Society 3.2/10 – Same as above, they did badly overall and received a 0/10 on transparency. What are you hiding Sinful Colors?

PETA – DOES TEST ON ANIMALS. I am horrified to learn that Sinful Colors is owned by Revlon, which I decided to boycott awhile ago when I found out. I'm so, so, so sad as I loved this brand but I just cannot support animal testing in any way and I will not be buying another Sinful Colors polish again. 🙁
Sinful Colors New Neons Colors/Full Line
This collection has 14 colors in all, but only 6 of them are actually new. And all the new colors are Walgreens exclusives however I didn't have much trouble finding them at all.
New Colors *Walgreens Exclusives
All have a sheer, jelly type formula.
Bright B4 Ur Eyes – Medium-coral, pink.

Bright to the Point – Bubble-gum, bleached-neon pink.
Neon and On – Berry, purple-pink.
Rays of Bright – Tangerine orange with a hint of yellow.
The Bright Thing – Bright highlighter-yellow.
Vivid a Try – Vibrant orange-red.
Re-Promoted Colors
All have a typical Sinful Colors cream polish formula. I'm not sure any of these technically qualify as neons, maybe a few. I'll let you decide.
24/7 – Bright bubble-gum pink.
Anchors Away – Bright medium-orange with a faint silver shimmer throughout

Black on Black – Basic black.
Dream On – Vibrant, medium-eggplant purple.
Energetic Red – Bright, light-red with a HINT of orange-pink
Hip to be Square – Medium periwinkle-blue. Extremely similar to Sail La Vie.
Snow Me White – Basic white (slightly streaky).
Why Not – Deep, rich aqua-blue.