Outlined Comic Skittle Nail Art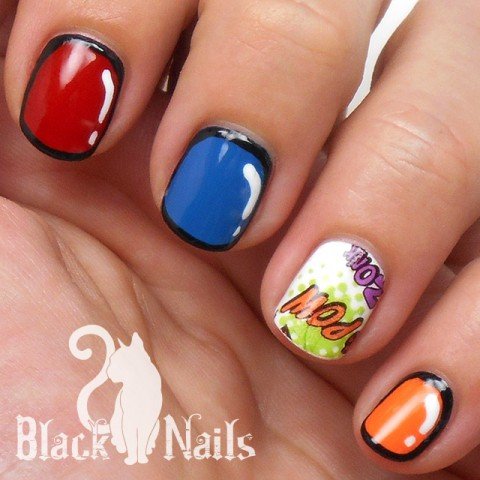 This was another one of those manicures that was really hard to take off because I fell in love with it. It was so much fun to have on! I have seen the look before, but it felt intimidating to do outlined, or framed, nails. Now that I've had a bit of practice with outlines this design felt like it was in my skill range. Then I found these awesome comic inspired nail tattoos randomly at Walmart and knew it was time to give this look a try.
I grabbed my best super hero colors and created a skittle manicure, and used white for the base color underneath the tattoo accent nail. At first I had painted it black thinking that the tattoo's had white rims around the designs but they don't. The design actually didn't show up much at all, so these tattoos are best used over lighter and bright colors to really make them POP. These are super simple to use:
Apply base nail color – I used white

Cut out the paper for your nail shape – I traced a set of nail wraps I knew fit my nails well and used that as a "template"

Remove the clear protective film
Dip into water
Press paper onto nail for 10 seconds
Seal with top coat – done!
So funky and fun! If you look them without any glare from lighting this design really makes your hands look fake, such a trip! I was supposed to wear these to WonderCon, but ended up not feeling well that day. They felt appropriate.
Inspired by: Renee's Nails on Tumblr
Outlined Comic Nail Art – Get The Look
For this look I used:
Sinful Colors – Snow Me White
Sinful Colors – Black on Black
Sinful Colors – Ruby Ruby
China Glaze – Shower Together
Wet n Wild – Sunny Side Up (wild shine)
Fing'rs – Comic Nation (heart 2 art tattoo paper)
Seche Vite – Dry Fast Top Coat
No Brand – Thin, small detailing brush (size #00, from Amazon)