Underwater Aqua Bubble Gradient Nails
I recently moved, leaving my regular jacuzzi habits behind. Let me tell you – me AND my muscles are really, really missing that jacuzzi. Like in a big way. So an ode to jacuzzi bubbles, this is my underwater aqua bubble gradient nails!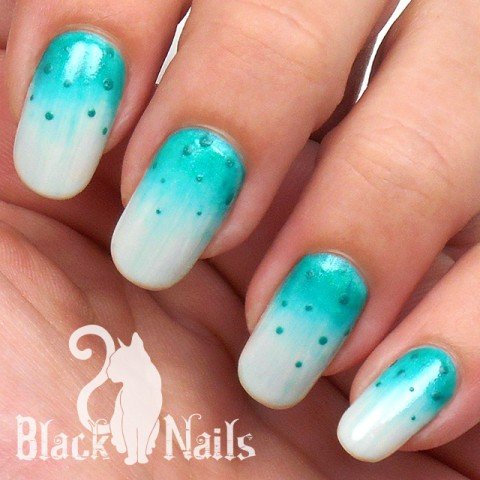 In my further attempt to find a perfect "mannequin hands" neutral nail polish for my strange skin tone, I picked up New York Color's "Prospect Park Bloom." I really, really like this light nude, but just like its predecessor that I tried before, "Fashion Safari" (also New York Color) it just isn't the right shade for me. Here is a swatch of each of these colors, one was the base from my previous Fox manicure when my nails were much shorter.
I added a quick and easy gradient next using Wet n Wild "Miami Spirit" with a make-up sponge near my cuticle. Then I quickly top coated with Milani Top Coat because I know that it smears/pulls polish really well. That is what created these neat streaks on top of my base color – sometimes a bad top coat can be turned into a great thing! I use this top coat all the time for streaky gradients.
Wet n Wild's "Miami Spirit" is an awesome color – its the perfect shade of teal with just a hint of silver shimmer. When I picked it up I was expecting to like it, but not to fall in love with it! Hopefully in this picture you can see the really pretty subtle shimmer that this polish has.
Last I used a couple dotting tools and added a few "bubble" dots to each nail. I attempted to make the dots near my cuticle larger than the ones floating up above to mimic bubbles.
Underwater Aqua Bubble Gradient – Get The Look
For this look I used:
New York Color – Prospect Park Bloom
Wet n Wild – Miami Spirit (fergie)
Pure Ice – Watch Me Go (glitter)
Make up sponge – For gradient
Bundle Monster – Small and medium dotting tools
Milani – Top Coat
Seche Vite – Dry Fast Top Coat
And because I don't know when to stop, I added a teal glitter, Pure Ice's "Watch Me Go". I actually liked this mani much better before I added the glitter, but oooooh, shiny!