OMG Nail Strips Review – Pink Scream for Halloween
Look at my NAILS! I haven't loved my nails this much in so long. This is a super fun but still girly Halloween nail wrap called "Pink Scream" from OMG Nail Strips.  OMG is all about creating high-quality nail wraps at a low price and they have over 100 designs to choose. I choose to review these since I love Halloween, of course!

I have really small nail beds, so these nail wraps were a bit large for my nails. To get them sized properly I used my cuticle scissors to trim them into the same shape size as my nails, but then the edges of the wrap were a little jagged. I got the idea to use a nail file to smooth out the edge (just like filing your nails) and that worked perfectly! With shaping, application and applying topcoat all 10 fingers took me about an hour. This may be a bit long and is just my personal experience – I know some other bloggers had a much quicker application time such as 20-30 minutes. I may need more nail wrap practice! 😉
Here is what the product looks like in the packaging and close up. Awesome! The nail wraps come in two sets of seven connected nail strips in a black cardboard packaging, all protected inside a plastic bag. The strips are each labeled with their width with two each of:
17.5 mm
16 mm
14.5 mm
13.5 mm
13 mm
11.5 mm
10 mm
The design example on the website has little blue lines and mine and all the other bloggers I've seen have little white lines. I actually don't mind and prefer the white anyway.
OMG Nail Strips Quick Review
Overall I would recommend these nail wraps as long as you have regular or slightly large-sized nail beds. Here's a quick but in-depth review with all the details – the good and the bad:
These wraps are very affordable with each set priced at $7.99 for 14 nail wraps. Right now they are running two promotions – you can get 5 sets for $25.00 with code "5pack" or a 10 pack of wraps for $45.00 with the code "10pack". Shipping is free on all orders.
Each pack has 14 nail wraps that comes in two identical strips with 7 connected strips (sizes listed above).
They are easy to use if they mostly match your nail size. I found application a little difficult since they were larger on all of my nails than some other companies wraps. If you have average or a little larger sized nails, these will work out much better for you.
The strips are very flexible and thin which I found a little bit difficult at first only because I wasn't used to it. I recommend making sure you start at the cuticle and keep the nail wrap nice and straight down the middle so that it doesn't fold on itself.  Then smooth from the middle out on both sides using a q-tip. Other than that they are super easy to apply and trim.
Even though the nail wraps are thin and flexible, they are also very durable. I've used more expensive brands, and these lasted just as long. I had them on for about 5 days before showing any tip wear at which point I took them off. And I'm VERY hard on my hands. I used a very thick coat of Seche Vite topcoat. I'm confident these would have lasted 10 days and still have looked great.
OMG Nail Strips has a lot of really fun designs and I especially love how detailed a lot of their artwork is. Right now on their site they have over 100 designs of the regular nail polish strip stickers and 25 nail foil strip designs.
Removal is very easy with just a two-three minute soak off. You can simply pull them off, but I don't recommend it. I tried this and it did seem to pull a little bit of 'skin' off my nail bed. Soak off is easy and will keep your nails healthy and safe.
Tip: I saved the portions I cut off the tip of each strip and the extra strips to use as nail art sections or tips later. Waste not!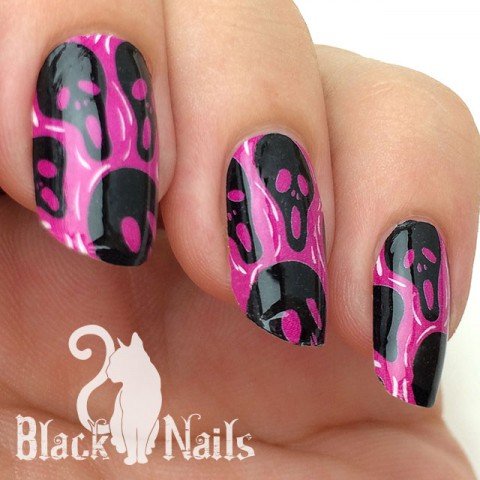 OMG Nail Strips Application Instructions
You can find the full application instructions, along with a helpful video, on OMG Nail Strips website. Here is a quote directly off of the package:
Soak your hands in warm water for 5 minutes. Dry hands, then gently push back cuticles. Carefully remove any excess skin around the nail bed.
Moisturize your hands with lotion, and wait 1 minute.
Using a Q-tip, remove any leftover lotion from the nail bed, paying special attention to the sidewalls, cuticle area and tip of the fingernail.
Select the appropriate sized nail strip for each nail to ensure the nail will be covered from sidewall to sidewall. Using a nail strip that is too large for a particular nail is not recommended; rather, trim the strip the scissors to the appropriate width.
Peel off the clear coating, and then carefully remove the nail polish strip from the sticker backing,
Start by placing whichever end on the nail strip that works better for your nails at the cuticle and  apply it by smoother the strip towards the tip and your nail, smoothing out and bumps and ensuring the strip is tucked neatly into the sidewalls.
File away any excess nail strip by holding your nail file parallel to the surface you are working on, as filing the nail perpendicularly will cause tearing along the tip.
Apply a finishing topcoat, and wait 5 minutes for it to dry completely.
There is an extra step online right before the last step of applying topcoat:
After you have applied all ten polish strips, take a cotton ball the has been dipped in polish removed with the excess remover wrung out, and swipe each nail 1-3 times, paying special attention to the sidewalls, tips and cuticle area. This step is especially important, as it melts the strip to your nails, allowing for longer lasting wear.
OMG Nail Strips Pink Scream – Get The Look
For this look I used:
OMG Nail Strips – Pink Scream
Cuticle scissors
Nail file
Cuticle stick
Q-tips
Seche Vite – Dry Fast Top Coat
Other Blogger's Reviews of OMG Nail Strips Pink Scream

Follow OMG Nail Strips:
FacebookTwitterWeb