My Picks – Sinful Colors Halloween 2014 Wicked Colors Collection
When Halloween rolls around I am always on the look out for limited edition polishes – especially all the different black, glitter and glow in the dark varieties! This year Sinful Colors hit all my favorite Halloween notes with their 2014 "Wicked Colors" collection. The collection includes some standards such as Black on Black, Snow Me White, and Glow in the Dark along with many other releases from previous years. But there are also three new colors to covet – all my favorites of course since they are all shard foil glitters!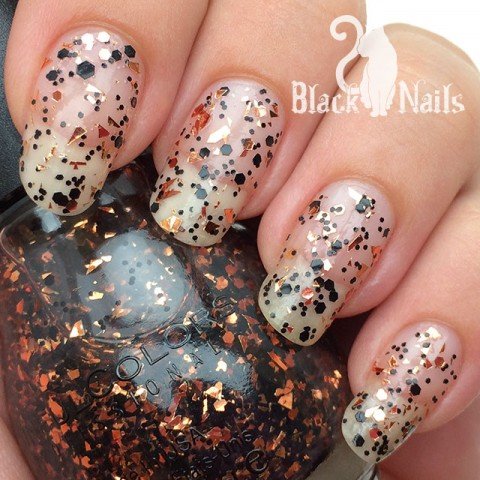 My picks from the collection include the three new glitter shades, along with two glitters from previous years. First is this beautiful glitter mix called "Splatter Spell". Splatter Spell is a mix of copper glitter shards and medium copper hex glitters together with a mix of matte black medium and micro hex glitters. Here I applied only 1 medium "dabble" coat. I do wish there was a little less clear topcoat in the formula as I had to put on a fairly thick coat and push the glitter around a bit. But I don't mind for this awesome effect in just one coat – look at that macro!
The next shard/matte glitter combination is green and black shade called "Cauldron Couture". This glitter topper is a mix of green glitter shards and medium green hex glitters together with a mix of matte black medium and micro hex glitters. Same as above, I used one medium "dabble" coat but this time I found the application much easier because the formula is packed with a bit more glitter than Splatter Spell. One hand only took about 10 minutes of careful application.
The last of new shard foil glitter formulas is called "Mystery Moonshine", and this one is a STUNNER! The formula is filled with shard glitters in copper, green, and purple. It reminds me of Mardi Gras – so much fun! Here I used two thick dabble coats to achieve the same density as the other two glitters – so this formula has a lot less glitter. But I don't care – it's so, so pretty I went and grabbed another bottle after this swatch, lol!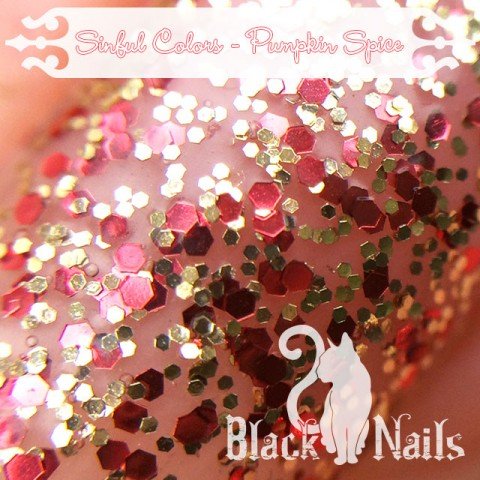 Next are two glitter shades from previous years. This is "Pumpkin Spice" from the 2012 Halloween collection. It is a glitter topper that is a mix of tiny bronze/copper hex glitters and burnt red medium hex glitters in a clear base. This one is SUPER sparkly and pretty and a perfect fall color combination. Here I used three thin coats for just about full coverage/opacity.
And finally, the last glitter in the collection is called "Starry Night". I used two medium coats to get full opacity. This formula is a bit difficult to apply thinly since it's a jelly formula packed with little glitters. I didn't use a topcoat on any of these pictures and as you can kinda see it does have a bumpy texture because of the glitter. I don't mind this but if you do or want a smooth, shiny appearance just use a good topcoat. This polish is a black jelly base with rainbow colored micro hex glitters and small copper foil shard glitters. I think it looks on the nail just like it does in the bottle – gorgeous! This would be a great background polish for a galaxy mani for sure.
Here is a picture of the Glow in the Dark topcoat. It really does glow brightly – in the bottle. Once you put it on your nails the glow is much less intense and not as long lasting, so make sure you use as many coats as you can for maximum effect. The second pic is of a design coming up soon taken in the dark with my iPhone. It's still a lot of fun!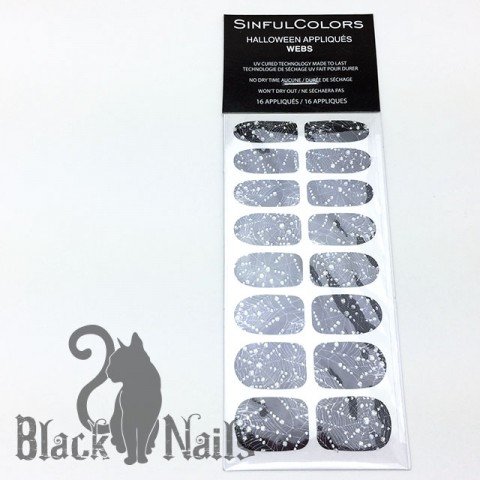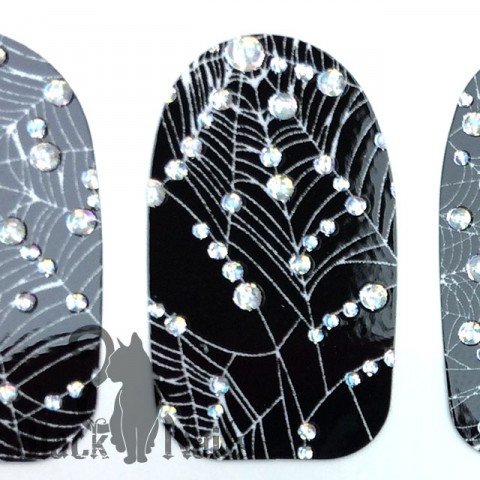 Last I want to show you this nail wrap I picked up, Sinful Colors Halloween appliques called "Web". I don't remember what other wraps they had, but this one really stood out to me. It's a black base nail wrap printed with a super fine sparkly silver web design accented with small silver rhinestones. The pack comes with 16 nail wraps. Very pretty!
Sinful Colors Halloween 2014 Wicked Colors Collection
New shard glitter shades:
Cauldron Couture – A mix of foil shard glitters in copper, green, and purple. (2014)
Mystery Moonshine – Glitter foil shards of purple, green and copper. Reminds me of mardi-gras! (2014)
Splatter Spell – A mix of copper foil shards and medium hex glitters along with a mix of matte black medium and micro hex glitters. (2014)
Glitters and special polishes from previous collections:
Pumpkin Spice – Glitter topper that is a clear base with a mix of tiny bronze/copper hex glitters and burnt red medium hex glitters. (2012)
Starry Night – Black jelly base with rainbow colored micro hex glitters and small copper foil shard glitters. (2013)
Glow in the Dark – Glow in the dark topcoat. (2013)
Colors from previous or permanent collections:
Black on Black – Standard black I use constantly
Snow Me White – Standard white that I also use all the time
Cloud 9 – Bright pumpkin orange
Courtney Orange – Dark burnt orange
GoGo Girl – Deep vamp red
Let's Talk – Bright primary purple
Pine Away – Metallic medium pine-green
Other Blogger's Reviews of Sinful Colors Halloween 2014