Studs & Splatters – Sinful Colors Splatter Spell Halloween 2014
I am still having fun with my Sinful Colors Halloween 2014 nail polish collection. Many of the colors are perfect for fall and make a great starting point for a festive manicure. I was inspired to do a splatter manicure of course paired with the color  "Splatter Spell".
Here is a swatch of Sinful Colors "Splatter Spell" on it's own. I did a full review of the Sinful Colors Halloween 2014 Wicked Colors collection a bit ago, which has more pictures of this awesome glitter topper, including a macro shot.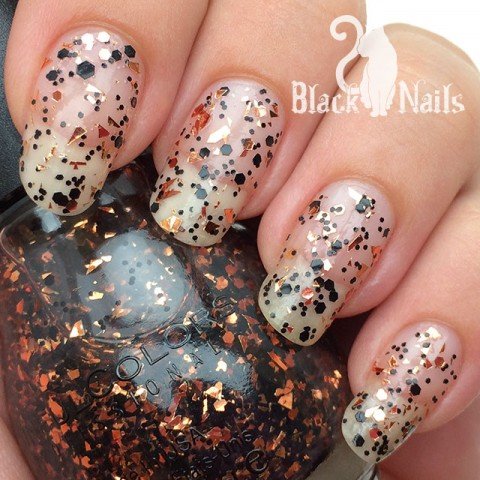 For the splatter accent nail I really wanted to try and match the feel of the other nails. First I put on a coat of a pretty nude by NYC called "Prospect Park Bloom". Then using a small black coffee straw I splattered on a brown sparkly semi-matte nail polish. Then last to make sure it sparked I splattered on a bit of gold polish by Sinful Colors called "24 Karat". On the other nails I added two black studs as accents.
Studs & Splatters – Get The Look
For this look I used:
Sinful Colors – Splatter Spell
NYC – Prospect Park Bloom  (quick dry)
Sinful Colors – Leather Loose (semi-matte)
Sinful Colors – 24 Karat (gold topcoat)
Small coffee straw (for splatters)
Imixlot – Stud Wheel (used small black discs)
Bundle Monster – Small dotting tool (to place studs)
Seche Vite – Dry Fast Top Coat