Abstract Beach/Ocean Wave Nail Art with KB Shimmer 2015 Summer Collection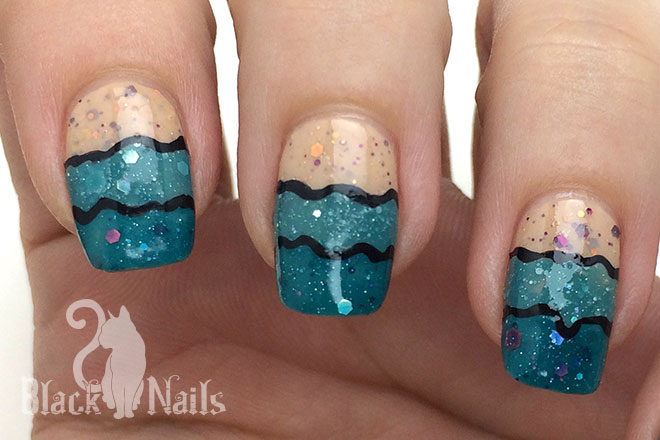 Last week I had the ridiculously awesome luck to win the full 2015 Summer collection from KBShimmer Bath & Body. As you can see my fateful Instagram repost, I entered because the collection is crazy beautiful. In this post I'm using three of the four glitter crelly's from the summer collection to create my first "from my own brain" nail art!! I hope you like my abstract beach waves!
To achieve this look I first put down a base of three thin coats of the KBShimmer polish called Shell Shock, which is a nude crelly filled with glitter. I really, really love this one, especially since in real life it very closely matches my skin tone from a normal distance. Next I used a medium blue glitter crelly called Home Surf and the brush that comes with the polish and drew a horizontal stripe in the middle of my nail with a squiggly up and down motion to make a "wavy" line. I pulled back my skin and really got in there all the way to edge to make sure I covered the nude polish completely. Next I used a beautiful dark blue glitter jelly called Vitamin Sea and used the same technique to fill in the tip of my nail.
After allowing the polish squiggle-stripes to dry for about 5 minutes I used a short, thin stripping brush dipped in black acrylic paint and emphasized the squiggle between each color with a random wavy line. Last I sealed everything with two coats of topcoat to even everything out. I think this is my first original design – from my brain! What do you think? Aren't these polishes gorgeous? I will have a full review and swatches of the full collection coming up next.
Abstract Ocean Beach Wave Nail Art – Get The Look
For this look I used:
Some links in this post are associated with affiliate link(s). I only endorse products, services or content that I have used myself and wouldn't hesitate to use again or recommend to a friend. If you end up purchasing anything I've used here on the blog, I hope you'll enjoy it as much as I do! To learn more click the button.