Black Bubble Wine – Studded Matte Sponged Nails
I knew as soon as I received these EPIC star studs from the Born Pretty Store that I had to do something special with them. What better excuse for a matte gothic bubble look!


For this studded mani got a little cheeky with my color selections and decided to whip out my Sinful Colors Leather Luxe polishes. I was finally able to complete this collection the other day when I found "Get It On" (which I used here) and "Laced-Up" (a red-orange) at the Wal-Mart by my new place. I was so stoked when I saw it, but now I wish I had grabbed two bottles of each because I love the colors so much. For the sponged grey tip I used "My Turn".
Born Pretty Store Vintage Star Studs
I had to have these studs when I saw them, so I am so happy to get the opportunity to review them. Studs like these always make me wish that I had a larger nail bed so I could do some crazy bling-tastic nails and stick a bunch of them on, but my nails are so small I could only fit one stud. But that's okay – I love the way this turned out!
I found these studs really easy to work with:
I received exactly 5 studs that are all uniform with beautiful detail.
The studs are easy to attach to the nail using regular super glue – and it stayed attached. I used matte polish to apply the rest of the studs and gems because I knew I would be taking this off the next day.
The studs are really sturdy and durable so you can easily reuse them if they doesn't fall off. But unlike other, thinner studs you cannot bend them to the curve of your nail.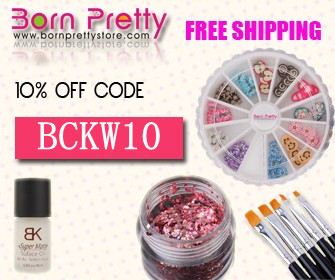 You can get these studs for just $3.93 from the Born Pretty Store. Use my awesome discount code BCKW10 to get 10% off your entire order. Shipping is always free and orders ship within 24 hours. If you haven't checked out the Born Pretty Store, I would recommend it. They have TONS of nail art decorations and supplies at very reasonable prices.

Black Bubble Wine Gradient Nails – Get The Look
For this look I used:
Sinful Colors – Get On It (matte)
Sinful Colors – My Turn (matte)
Creative Nail Designs – Super Matte Top Coat (to apply studs)
Born Pretty Store – Vintage Punk Five Pointed Star Studs
Born Pretty Store – Stud Wheel (used small silver discs)
Cheeky – Nail Art Rhinestone 5 Wheel Bundle (used small black stones)
Michaels Stores – Stick on pearls (package of white and black for scrapbooking)
Craft glue
Craft tweezers
Kitchen sponge – torn into small bits
Dotting tool and small bowl of water (to pick up and place gems)