This has been a long time coming, naturally! I was inspired by Simply Rins – and I didn't do her design justice at ALL! I really tried but drawing on my tiny nails is so hard. I wanted to take a picture of these anyway because I know if I keep practicing, it will only get better next time.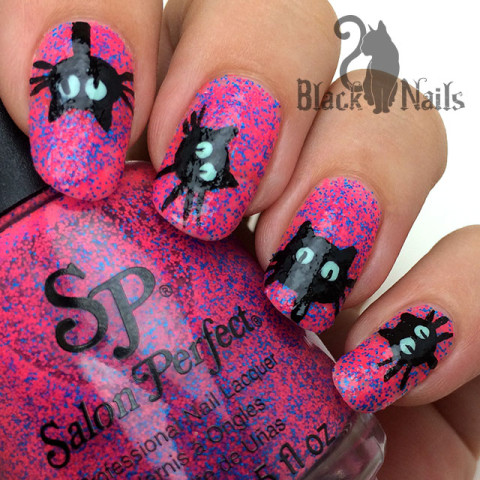 First I painted on the base coat and put a regular top coat – that was my first mistake. Since this Salon Perfect glitter "Shocked" is a mix of pink and blue micro-glitters, it has a really textured surface that isn't good for nail art at all. When I do this again I will make sure I use a thick coat of Seche Vite before drawing.
To draw the cats I first used a detail brush to make two little triangles for the ears. Then I grabbed a medium sized dotting tool and drew ovals for the heads. I switched back to the detail brush to draw the whiskers and the neck then waited for that to dry.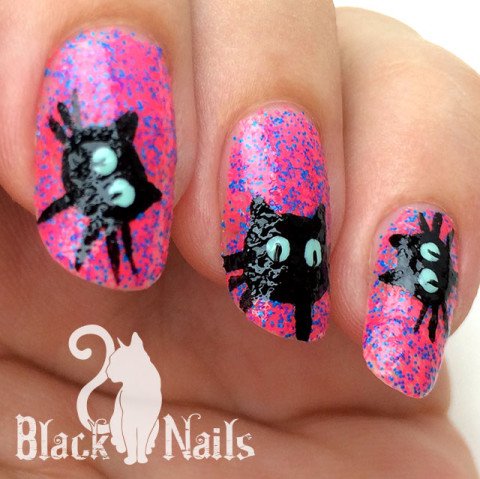 Last I drew the eyes – first I used the same medium dotting tool and made two green dots on each cat head. After that dried I attempted to make a little kitty pupil with the detail brush dipped in black one last time.
Salon Perfect Neon Collision Polishes
Okay, so I really wish I hadn't looked up the polish line for this base polish I used here, because now I MUST HAVE THEM ALL! These polishes are 100% micro-dot glitters in a clear base. I currently have only two of them, Kaboom and Shocked. I have always looked suspecting that there were others, but never saw them. I found these at Walmart, but I hardly see them anymore.
The complete line:
Bang – Orange and yellow (more golden)
Exploaded – Orange and yellow (more pinkish)
Jolt – Yellow and orange (more yellow)
Kaboom – Teal and lime green (more teal)
Shocked – Pink and blue (used here)
Zapped – Lime green and blue (more lime)
Salon Perfect Neon Collision Polishes Reviews and Swatches
Shocked Black Cat Nails – Get The Look
For this look I used:
Salon Perfect – Shocked
Bella Acrylic Paint – Black
Pure Ice – Home Run
Bundle Monster – Medium dotting tool
No brand tiny detail brush
Seche Vite – Dry Fast Top Coat