Purple Metallic Matte – Born Pretty Store Light Purple Mini Holographic Stud Review
Mixed finish madness! For this full review I wanted to mix it up – literally! For this look I used a semi-matte called a "silk", a matte polish and these beautiful light-purple HOLOGRAPHIC studs. You heard me right – holographic! They are mini aluminum (metallic) studs with purple holographic patterns on them. Multi-dimensional purple prettiness!
This is what the silver semi-matte and matte black base looked like before I put the studs on. So simple but I still like it a lot!
For some reason this look reminds me of an asphalt street or a street sign. A little bit grunge, a little bit LOOK AT ME. Wouldn't it be cool if street signs DID look like this?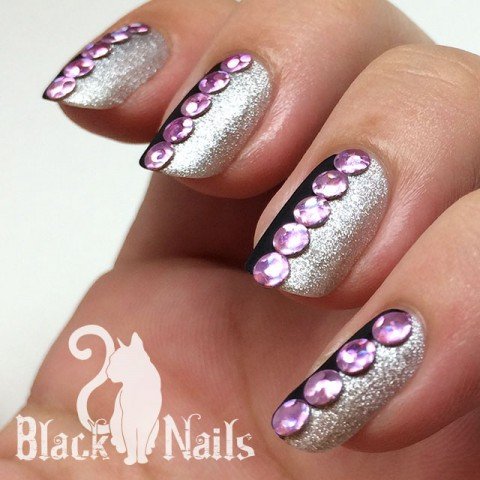 Born Pretty Store Light Purple Metallic Mini Studs Review
Price – $4.20 at the Born Pretty Store (Price goes down for more bags purchased)
Quantity – 300 pieces.
Packaging – The studs come in a small plastic bag that is resealable.
Best Use – Nail Art and Decoration, Crafts
Description – Light purple metallic holographic mini studs that are 3mm. Made of aluminum.
Size – 3 mm diameter.
Uniformity – All the studs are exactly the same size, shape and color. No trouble with "nesting" – none of the studs were stuck together.
Durability – These studs are good quality and because of their low profile they stay attached very nicely. They are fairly scratch resistant – I had to press really hard with a wooden toothpick to get them to scratch, but they did scratch. The color also does transfer a bit with cheaper (aka smearing) top coat, but it's not noticeable.
Special Instructions – Apply with nail glue, base polish, or other glue and seal with clear topcoat if desired. I did not use a topcoat here to keep the matte effect.
Ease of Use – Super easy to use and will fit any nail shapes. These lay flat anywhere against my tiny nail beds since they are so small. They have space on the back so that you can put a drop of glue in to adhere them, making application easy (you can see this in the pic below).
Color – A light purple color with a holographic pattern. Almost pastel but brighter.
Removal – Easy. I soaked mine off in about a minute along with the polish.
Recommend It – Yes, these are so cool!
Purple Metallic Matte Nails – Get The Look
For this look I used:
Get Studded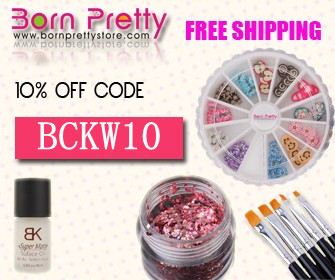 You can get these studs for $4.20 for 300 from the Born Pretty Store. Use my awesome discount code BCKW10 to get 10% off your entire order. Shipping is always free and orders ship within 24 hours. If you haven't checked out the Born Pretty Store, I would recommend it. They have TONS of nail art decorations and supplies at very reasonable prices.