Disappearing Heartbeat Nail Design
This is the manicure that I wore on Valentines day, inspired by so many others that have done the heartbeat manicure, (see below) but I wanted to add something new to the design, my own little twist. So I broke out one of my favorite, save-for-special-occasions-only nail polishes, the color changing Lipstick Yakuza to create a special disappearing act.
First I created an easy and fun base, a contrasting sponged tip. To get this look I put a white undie underneath a light coat of pink. Using a tiny piece of dry kitchen sponge, I lightly applied a darker pink to the tips in 3 thin coats, making sure to leave some of the lighter pink poking through in places.
Have I mentioned that I am bad at drawing hearts? That's why I grabbed my Sticky Nails Accent Nail Art Stencils and created this perfect heart on my middle nail – easy-peasy. Last I used a stripping brush to create a "heartbeat" line across all of the nails. The first picture is of the polish at room temperature or warm, second is of the polish getting cold, and last and darkest design is when the polish is cold. This design was so much fun every time I washed my hands!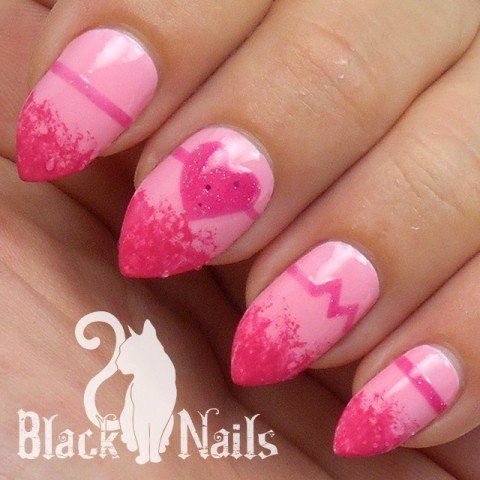 Other Bloggers Heartbeat Designs
Here are a few lovely heartbeat designs from other bloggers:
Disappearing Heartbeat – Get The Look
For this look I used:
Sinful Colors – Snow Me White (undie)
Wet n Wild – Tickled Pink (wild shine)
Bella Acrylic Paint – Raspberry Sorbet
Chromato-4 Lacquers – Lipstick Yakuza
Sticky Nails – Accent Nail Art Stencils
Bundle Monster – Long striper brush
Seche Vite – Dry Fast Top Coat
Follow Sticky Nails:
BlogEtsyFacebookInstagramPinterest