Red & Pink Dot on Dot Nail Art Tutorial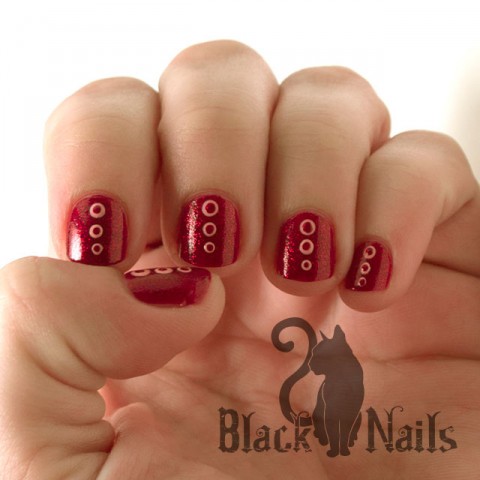 This design is so super easy, it probably doesn't even need a tutorial! But this is my first one, and I wanted to start simple. This look only requires two of your favorite contrasting colors, and some dotting tools.
Steps
Start by preparing your nails first by giving yourself a nice manicure. You might also use 1-2 coats of a nail treatment (such as OPI Nail Envy Nail Strengthener) followed by 2 coats of basecoat (such as using Essie Protein Base Coat). Then you are ready for the fun!
Gather Your Supplies:

Basecoat and topcoat
Dotting tools in various sizes
Two contrasting nail polish colors, your base color being a glitter coat with a matching undercoat. You can test your colors out on top of each other on a sheet of paper first to make sure you are happy with your choices
Cuticle stick
Acetone or DIY Acetone-Glycerin
Clean up brush
Q-tips

Undie Coat – Apply 1-2 "undie" coats of nail polish so you will only have to use 1-2 coats of your expensive glitter polish, rather than 3-4.
Glitter Coat – Apply 1-2 coats of your glitter nail polish.
Under Dots – Using your contrasting polish color and graduated dotting tools, create a line of three dots from large to small in the middle of each nail.
Over Dots – Starting with the second largest dotting tool you used before and choosing one smaller one, create smaller dots on top of each dot in step 4 using your base color again. I like to immediately put two dots right on top of each other to ensure the dot is opaque.
Clean Up – Allow your design to dry 10-15 minutes and apply 2 coats of topcoat. Using a brush dipped in acetone, clean up your cuticle line. Moisturize and, voila! Your done.
Get the Look
For this look I used:
Wet n Wild – I Red a Good Book
China Glaze – Ruby Pumps
Pure Ice – Love
Bundle Monster Dotting Tools