Blue Glitter Galaxy Design – Nail Art Nov10
I have been wanting to try my hand at colorful galaxy nails again for a long time. The "nature" prompt for the next day of the @californails November nail art challenge on Instagram was the perfect excuse. I have done galaxy nails with a Dalek accent nail way back when, but any attempt since then either looked the same or was just a major fail. I have seen so many beautiful galaxy nails but have SO much trouble re-creating them, even when following a tutorial.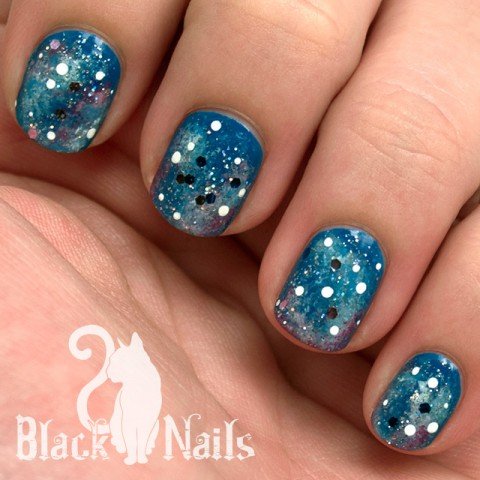 I think I have figured out the secret to a dimensional galaxy nail, FINALLY! Besides the obvious – choosing complementary colors, limiting your color palette, to glitter or not glitter? – here is what I found helped me to finally get that elusive "dimensional" look:
Put your layers on VERY lightly with a TINY bit of sponge. Better to dab on a bunch of really light layers then to blob the color on in just a few layers.

Try not to put on so much polish that you can no longer see your base color throughout areas of the color that you are adding. This is the real secret.
What to do if you have overdone it and created a "stripe" of color instead of a colored milky way? Try lightly dabbing on a bit of your background color again throughout.
If you are using a darker base put on a very light layer of nude or white to the area you are going to apply color first. This will make the colors really pop.
Add a lighter tone of the same color to the middle area of any "milky way" streaks to make them look like they are lit up.
Now I just need some more practice actually accomplishing light coats 😉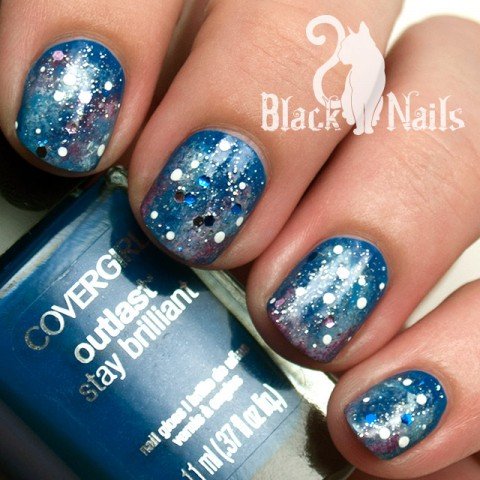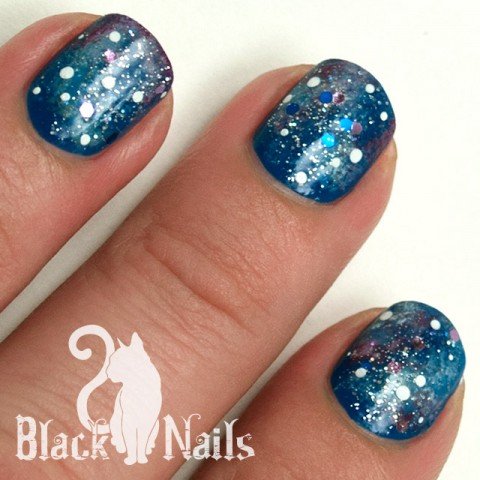 Here is a picture in daylight – I was trying to get the glitter to photograph correctly. It is SO shiny that the blue and purple glitter kept photographing black, like you can see in the pictures above.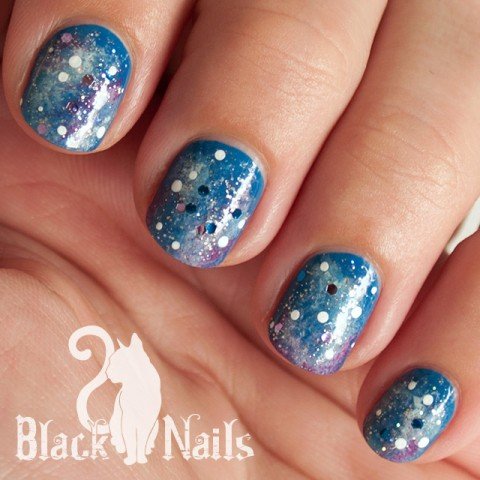 Blue Glitter Galaxy Design – Get The Look
For this look I used:
Cover Girl – Out of the Blue (outlast)
New York Color – Fashion Safari (in a new york minute)
Wet n Wild – Through the Grapevine (megalast)
Sinful Colors – Beverly Hills
Opi – No Room for the Blues
New York Color – Skyline Blue
Sinful Colors – Snow Me White
New York Color – Starry Silver Glitter
Kitchen sponge
Craft tweezers
Bundle Monster – Tiny dotting tool