Wintermint – Revlon Parfumerie Scented Nail Polish Swatch & Review
The first few times I saw this polish collection I actually thought that they WERE perfume, so I had skipped over them many times. I was tricked by the pretty perfume inspired bottles and to be fair there is only a tiny mention of it being polish on the front of the bottle. However, now I am glad I discovered these, it is like aromatherapy for your fingertips.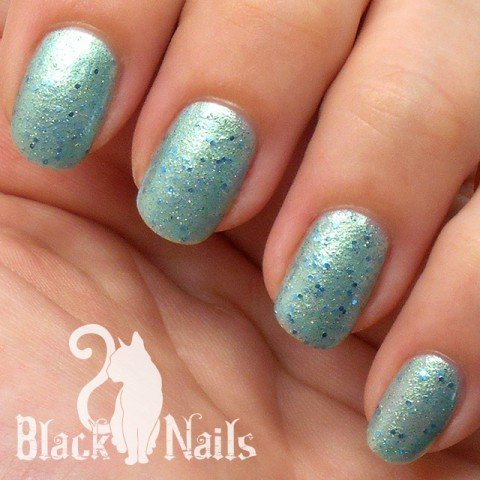 If you are into aromatherapy, you will LOVE these. No need to carry a bottle of oil that may break, leak or spill in your purse, you can now carry your scent with you safely at your fingertips! That is why I chose the minty fresh scent of "Wintermint". I have recently cut my coffee consumption in half, and find I need a pick me up here and there during the day. Every time I would adjust my hair or rest my hand near my face to think I would get a waft minty freshness from my nails. It is such a refreshing scent that to me smells just like candy canes.
The color is a minty green-glue with small blue hex-glitters. It reminds me of the sparkly sea on a really sunny day here in San Diego with the promise of a "green flash" sunset. So pretty! I found a lot of the other colors appealing, but this one I really liked.
Revlon Parfumerie Scented Nail Polish Review
Price – $5.99 at Drugstore.com
Official Site – Revlon Parfumerie
Description – A shimmery solid color with glitter that once dry, gives off a noticeable, but not overly strong scent. Dries with a slightly bumpy texture because of the glitter in the base color.
Best Use – Solid polish, gradients, and with a thin coat it can be a glitter topper.
Size – 2.4 oz/11.7 ml
Packaging – A pretty perfume inspired bottle, a squat square with a black bulb top.
Brush – Standard sized black brush.
Ingredients – Full list of ingredients on Ulta.
Cruelty Free – No! I am super bummed to learn that Revlon is NOT cruelty free. According to my research they test on animals in countries that require it, which I didn't even know was a thing. I WILL NOT BE BUYING REVLON PRODUCTS AGAIN.
Formula/Uniformity – Has a smooth and even formula and the glitters disperse evenly and easily. Not streaky at all.
Opacity – Translucent with one thin coat to opaque with three thin coats or two medium coats.
Color – A minty pastel green-blue with small blue hex glitters that is true to bottle. There are also small blue glitters in the minty base color!
Dry Time – Thin coat dries to "tacky" in 5 minutes, fully dry in 10. Three thin coats took 8-10 minutes to tacky dry and 25-30 minutes to dry but still dentable. Not a fast drying polish.
Durability – The scent lasted about three days, fading more each day and hardly noticeable on the last. The smell was strongest the first two days. I didn't have any chips after three days of wear, only some wear around the tips BUT this included playing roller derby a couple of those nights. I used a basecoat and a thick topcoat (topcoat did not seem to affect the scent much, if at all).
Removal – Took a three to five minute soak off per finger. Here are some easy glitter removal tricks.
Staining – None that I noted in three days of wear.
Ease of Use – Very easy to apply. I was surprised by how evenly the glitter spread out without any effort on my part.
Recommend It – No! I want to, especially if you like the scented novelty. I do think its a fun twist, but I can't support a company that tests their products on animals. Alternatives are listed below.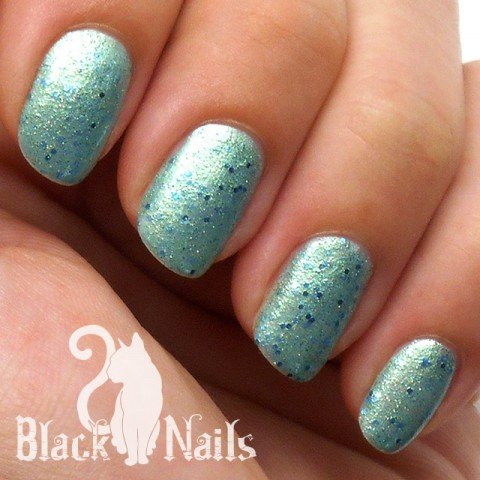 Other Scented Polishes
Here are some scented nail polishes that are not tested on animals. I haven't tried them, YET! 😉
Other Blogger's Reviews