NOTD: Fall Plastic Bag Marble Nail Art
Finally getting back on my nail game, and wanted something super easy and fast to celebrate the start of Fall. I've recently had a lot of success with plastic bag marbling, and I think this turned out really well too.
I used a grey base, then dabbled on only yellow and orange nail polish, but the effect turned out even better than I had hoped with all sorts of fun fall colors — muted orange, yellow, green, brown, and grey. To me it sort of looks like abstract falling leaves. What do you think it looks like?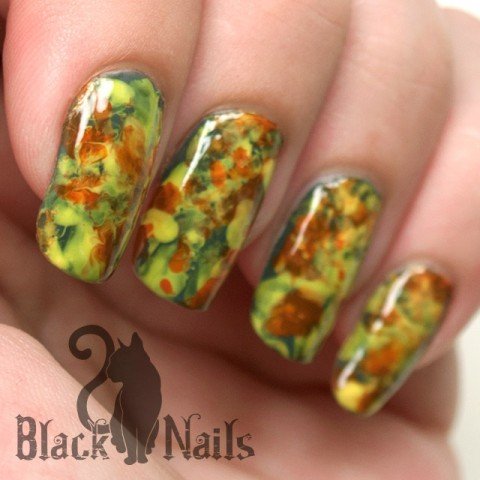 Fall Plastic Bag Marble Nail Art – Get The Look
For this look I used:
NYX – Dark Gray (base color)
Kleancolor – Neon Yellow
Pure Ice – Drive Me Crazy
Seche Vite – Dry Fast Top Coat
Seche Vite Topcoat Notes
I don't usually top coat before I photograph to try to cut down on glare, but this look always requires it to smooth out the surface. I remembered I had a basically unused bottle of Seche Vite that I've only tried out a couple times because I found it to be a bit too thick for me. But this is what this topcoat is made for, it made the surface glassy smooth! There was a little shrinkage (NOW I get what everyone is talking about!) but I'm okay with that.