Sally Hansen Sugar Coat Review & Swatches
Back in the beginning of July I purchased my first Sally Hansen "Sugar Coat." After trying it out to create a B&W Textured Galaxy Nail Art Tutorial I became obsessed with collecting all the Sugar Coat polishes – where has textured nail polish been all my life? Since I have all of polishes in the collection except one, I thought it would be fun to do a full review, some swatches and of course a lot of links to textured nail art!
Sally Hansen Sugar Coat Swatches
I decided to swatch the Sugar Coat polishes side by side so you can compare the colors that are similar. Lots of other talented ladies have already done full beautiful swatches (links to more swatchs are at the bottom of this post), so I thought I would do it a little differently. I think they turned out as fun skittle manicures on their own! What do you think?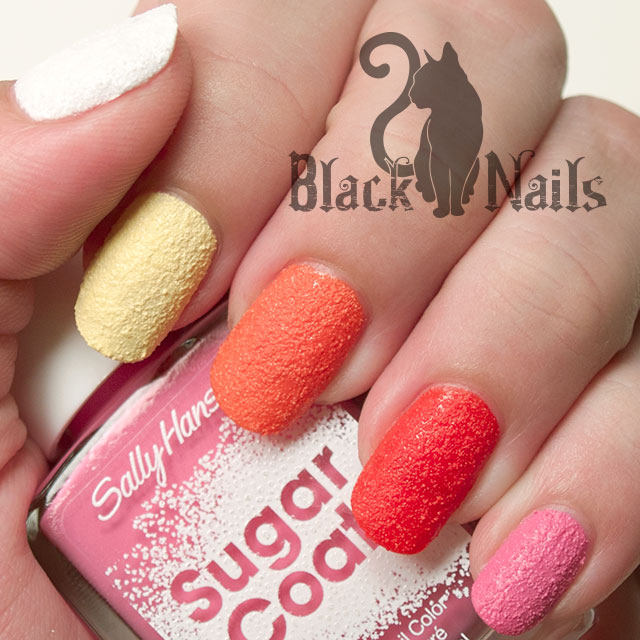 Pictured from thumb to pinkie:
Sugar Fix (white, 3 coats)
Sweetie (yellow, 3 coats)
Candy Corn (orange)
Cherry Drop (red)
Cotton Candies (pink)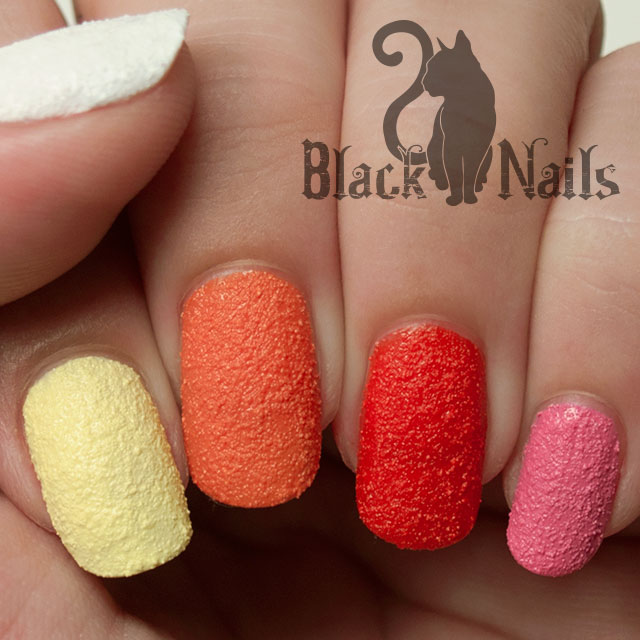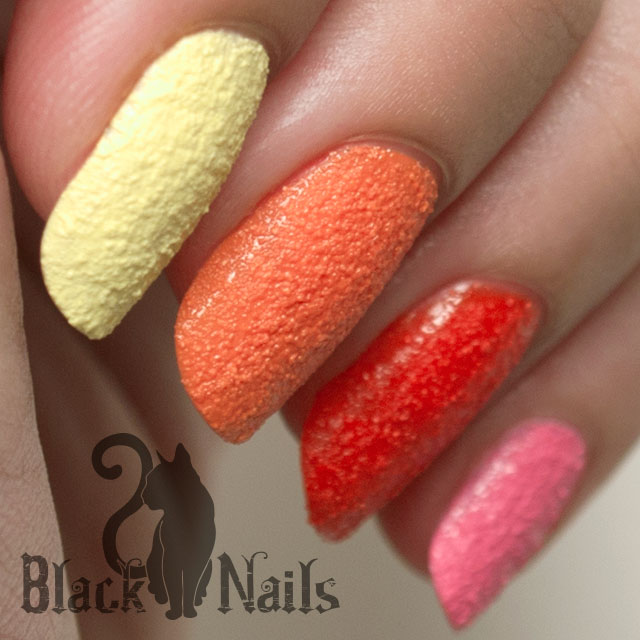 Next the blues and greens, pictured from index to pinkie:
Laughie Taffy (royal blue)
Razzle-berry (bright blue)
Spare-A-Mint? (blue-green)
Sour Apple (pastel mint green)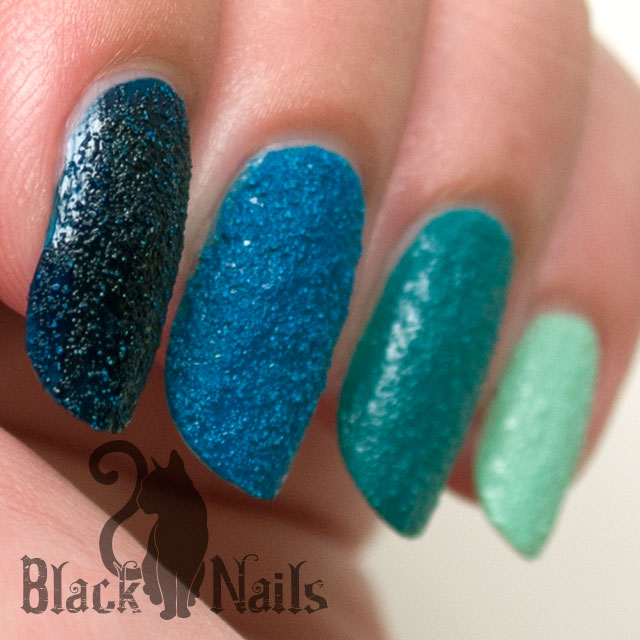 Saving the best skittle mani for last, pictured from index to pinkie here is:
Red Velvet (burgundy shimmer, 3 coats)
Pink Sprinkle (deep pink glitter, 3-4 coats)
Treat-Heart (light pink glitter, 3-4 coats)
Royal Icing (light blue glitter, 4-5 coats)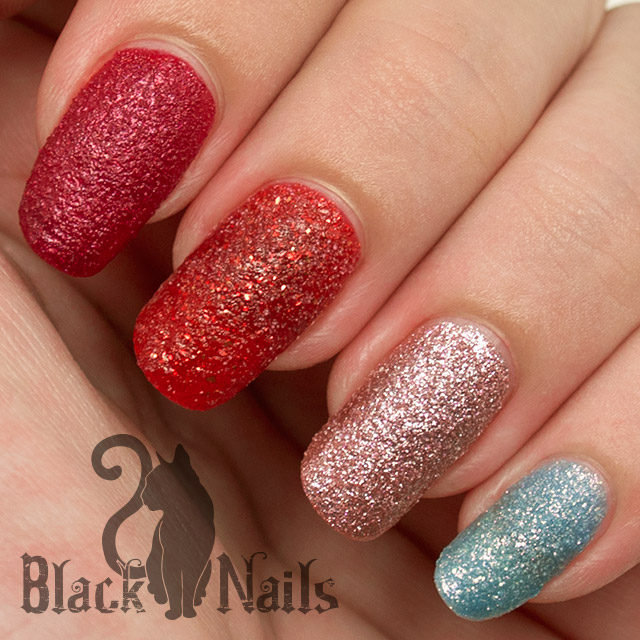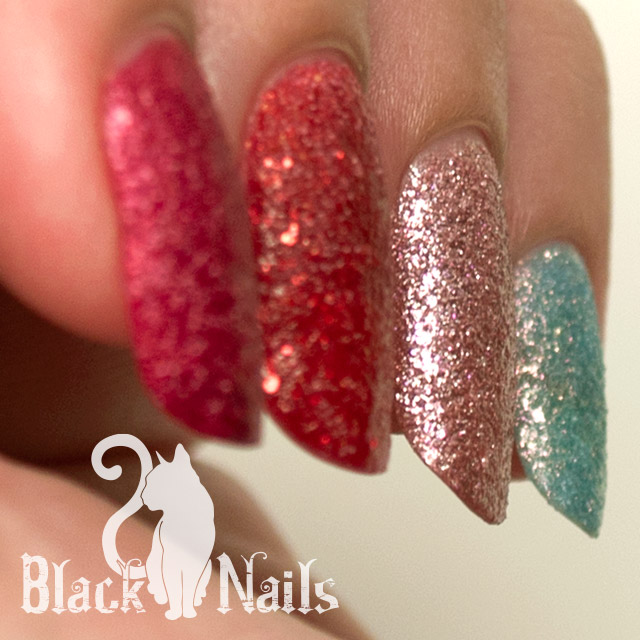 This is a full swatch of Gummy Grape, which is one of my favorite colors in the whole line.
Saving the best for last, here is a full swatch of my absolute favorite "color" in the line, Lick-O-Rich (from awhile back when I still had nubbins, lol):
My favorites are Lick-O-Rich of course since I am a sucker for all things black. And the I really like Pink Sprinkle, Treat-Heart, Red Velvet and Gummy Grape too. They are all such pretty colors, especially the three with glitter! But the purple is so deep and beautiful.
Sally Hansen Sugar Coat Textured Nail Polish Review
Price – $7.49 at mass drug stores or about $5.00 at Amazon.
Size – 0.4 oz/11.8 ml
Packaging – Comes in a square bottle with a see-through outside that I really like, kind of like a perfume bottle.
Ingredients – "3 Free".
Cruelty Free – Yes, not tested on animals. Read more at Sally Hansen FAQS.
Best Use – Solid polish and fun nail art.
Description – For a description of each color, see the full list of colors below. Sally Hansen states the benefits of these polishes as:

"Creates a unique sugary texture" – check, yes it does!
"Creates a 3D look to nails" – it really does, even more of a raised effect than Zoya Pixie Dust.
"Dries to a semi-matte finish" – again, check. Some of them also have glitter flakes making a very cool matte-metallic finish.

Formula – Awesomeness, I love the textured effect and it is darn easy to apply if you use thin coats.
Opacity – Surprisingly good. Most of the colors coat well in just 2 thin coats as directed, but a few look better with 3 or even 4 or more thin coats. For the following colors I used at least three thin coats (all others pictured are 2 coats):

Sugar Fix (white)
Sweetie (yellow)
Red Velvet
Treat-Heart (3-4 coats)
Pink Sprinkles (3-4 coats)
Royal Icing (4-5 coats)

Color – All are true to bottle except "Cherry Drop" – this one is really more of an orange-red, but still red and pretty. The collection has a great selection of colors with 4 glittery shades!
Brush – Standard size brush (thin and long) that is easy to use.
Dry Time – Quick, as advertised. Even over a basecoat or glue-basecoat, each coat dries in about 5 minutes.
Durability – Lasts without noticeable wear and tear for up to 5-7 days. Mine chipped after 5 days but that is pretty good for no protecting top coat (but not as good as the Zoya Pixie Dust which didn't chip for 10 days!)
Removal – Easy to clean up after application with a brush or q-tip dipped in acetone. Very difficult to remove completely, almost as stubborn as the Sally Hansen Fuzzy Coat Polishes. If you use one of the two easy ways to remove glitter polish it will come off without problems. In the manicures above I used a glue base for easy removal.
Staining – A few of the polish colors stain unfortunately, even after only a short period of time:

Razzle-berry (bright blue)
Spare-A-Mint? (blue-green)

Ease of Use – Easy and straightforward to apply and achieve a fun, 3-D sand texture.
Recommend It – Have I mentioned I have all but ONE? Yes, yes, yes!
Sally Hansen Sugar Coat Tips
Try to work quickly and as evenly and widely as possible. The texture comes up as it drys, but before that you can sort of move it around like a normal polish. But within 10-20 seconds that is no longer possible.
I would try to use a 2 coats of heavy-duty basecoat underneath this one and commit to soaking off the polish. Here is a picture of the staining from the blue/green skittle manicure, but they were such pretty colors! I used the white-glue basecoat underneath this manicure which just wasn't good enough on it's own. I was able to fix it somewhat so far, but I wish I had read Lab Muffins awesome scientific post about "How to Prevent Teal Polish Staining" BEFORE writing this. I would have used 2 coats basecoat and then the PVA basecoat to avoid staining.

Sally Hansen Sugar Coat Colors
I didn't purchase "Bubble Plum" only because I found it a little strange (is it purple? is it pink? is it Pepto-Bismol?) and it looks very similar to "Cotton Candies" in person. Let me tell you that collecting all the polishes was not an easy task! I think I went to a few different CVS, a couple Walgreens and a couple Targets — I was determined!! I just love how textured they are, plus the ones with glitter are SUPER pretty!
Sugar Coat Standard Collection – First Release
Lick-O-Rich – Flat black
Sugar Fix – Flat white
Cherry Drop – Flat bright, orangey-red
Cotton Candies – Flat pastel pink
Bubble Plum – Flat pastel purple-pink
Razzle-berry – Flat bright medium blue (pretty!)
Sour Apple – Flat pastel mint green
Sweetie – Flat pastel yellow
Sugar Coat Standard Collection – Second Release
Candy Corn – Flat bright pumpkin orange
Gummy Grape – Flat primary purple
Laughie Taffy – Flat royal blue
Spare-A-Mint? – Flat turquoise blue-green
Sugar Coat Shimmer Collection – Second Release
Red Velvet – Deep burgundy (purple) shimmer
Pink Sprinkle – Deep pink with pink glitter
Treat-Heart – Light baby pink (hint of purple) with light pink glitter
Royal Icing – Light blue with silver glitter
Sally Hansen Sugar Coat Directions
Basecoat? A lot of textured polishes instruct you not to use one, but no mention of it this time. I always use Opi Nail Envy underneath my manicures, now even with the PVA basecoat thanks to Lab Muffin!
Shake gently.
Apply 2 thin coats. I found some if the colors work better with 3-4 thin coats, such as the glittery ones or lighter colors. Thinner coats layered up always seems to work best to get the texture even.
No topcoat to keep the matte finish (not mentioned in the instructions, but I never use a topcoat on Sugar Coat or any other textured polishes).
Sally Hansen Sugar Coat Nail Art & Designs
More Textured Nail Art!
Here are some more great nail art designs from some talented ladies:
More Reviews for Sally Hansen Sugar Coat