Pastel Flowers – Nails Inc. Floral Chelsea Review & Swatch
This polish immediately caught my eye while I was browsing the aisles at my local Ulta. It looks like spring time in a bottle! I don't have very many polishes with shaped glitters. This one includes tiny white hexagon and bar matte glitters, small hexagon baby-pink matte glitters, and baby-pink, blue, and yellow medium daisy glitters (check out the macro pic to see the glitters up close).
For this manicure I picked out three shades that matched the glitters and did a quick skittle manicure with a bit of glitter placement. I wish I had waited to set the daisy's because the polish was still wet and you can see I puckered it – oh well. Look at this accent nail up close instead!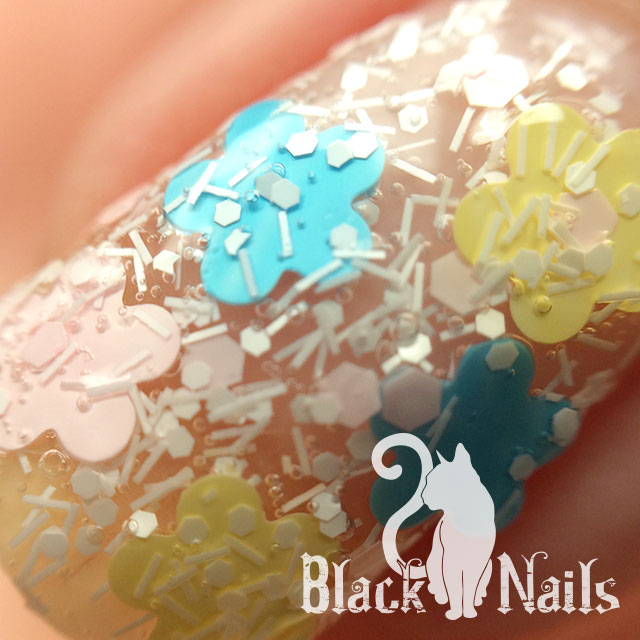 Who knew there were so many bubbles! You actually cannot see them in real life. I wonder if it's from the polish or the Seche Vite topcoat? I will be investigating this for sure. For this accent nail I used two thin coats of Nails Inc. "Floral Chelsea Embankment Gardens" toped with two thick coats of Seche Vite to even out the surface. I did unfortunately have to hunt the glitters out of the bottle – I almost gave up on the blue ones.
Color Note: Above is the promo photo from Nails Inc. for the polish. In my opinion their photos are much lighter and brighter than the actual polish. I believe that the photos I have shown are more true to the real life colors of this polish.
Nails Inc. Floral Chelsea Embankment Gardens Review
Price – About $11.00. Available at Ulta and Macy's.
Description – Described as giving "a romantic, colorful and pretty nail finish. Each Floral polish features a beautiful blend of daisy shaped matte glitter particles." Glitters include: tiny white hexagon and bar matte glitters, small hexagon baby-pink matte glitters, and baby-pink, blue, and yellow medium daisy glitters (see macro).
Best Use – Glitter topper and nail art.
Size – 0.33 oz/10 ml
Packaging – Squat round bottle with a shiny silver cap of the same diameter that is covered with a pretty white floral print.
Brush – Medium-large sized brush that is well suited for the glitters – spreads out all the smaller glitters evenly over the nail without too much fuss. But the brush is coarse and the bristles are thick so you have to do quick one stroke applications. Not a huge fan of this brush.
Ingredients – 4-Free (includes formaldehyde resin).
Cruelty Free – I was not able to find any information on this – or find Nails Inc. on any cruelty free list either. I sent them an email and will update the post when/if they respond. As of 09/28/14 they never did.
Formula/Uniformity – Packed with all the smaller white and baby-pink glitters, with sparse hard to grab daisy glitters in a medium-thick formula. I do wish the formula was a bit thinner and I will probably end up thinning it out eventually.
Opacity – Not really meant to be opaque, but with 3-4 coats you could achieve a mostly complete coat of glitter. I used 2 coats on my accent nail and no base color.
Color – Baby pastel yumminess – mostly white and baby-pink glitters with pink, blue, and yellow daisy shaped matte glitters in a clear base.
Dry Time – Dries to just a bit tacky in 3-5 minutes but is still dent-able. Dries completely in about 15-20 minutes – kinda takes a while.
Durability – Seemed very durable – I saw no lifting or wear in about 2 days of having it on.
Removal – A very stubborn glitter to remove. I would suggest using a good glitter removal method and pure acetone, or better yet DIY Gentle Glycerin Acetone.
Staining – None at all that I noticed.
Ease of Use – Easy enough to coat with the smaller glitters, but the daisy glitters were very difficult to get out of the bottle. At one point I wasn't sure I would get a blue one for my middle nail at all, and wanted to just dump the polish out, lol!
Recommend It – Meh. It looks really pretty and I do like it – but the daisy glitters don't lie flat on my nail and are nearly impossible to hunt out of the bottle.
Other Blogger's Reviews
Pastel Flowers – Get The Look
For this look I used these polishes in this order from my index to my pinky fingernail:
Sinful Colors – From Sheer to Eternity (blue)
Sinful Colors – Unicorn (yellow)
Nails Inc. – Chelsea Embankment Gardens (floral)
New York Color – Pink Champagne
Elmer's – Craft Glue (for easy removal of glitter accent nail)
Bundle Monster – Small dotting tool (for flower placement)
Seche Vite – Dry Fast Top Coat