Movember Mustache Skittle MANicure – Nail Art Nov01
I have decided to try to complete the @californails November nail Art Challenge from Instagram. This is one of those 30 day nail challenges, but a "totally doable I have a life! challenge!" lol. I really liked the prompts for this month and although I am unsure if I will complete this, I really want to try. I will post each manicure the day after the due date listed.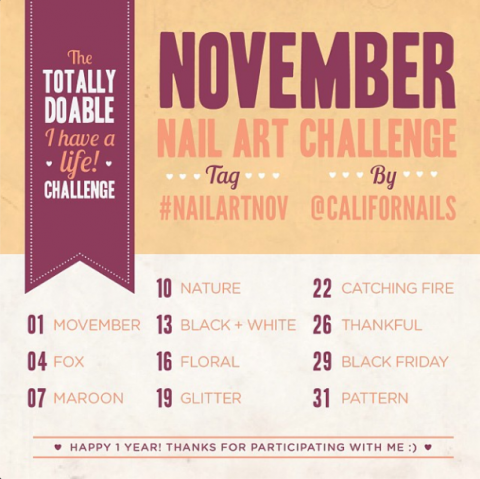 If you're like me you might not know what "Movember" means – just in case, let me fill you in. Movember is the renaming of the month of November to raise awareness for prostate cancer, and now just men's health in general. Some men even celebrate the month by growing an epic mustache in November, again to help bring awareness. Have you asked those special men in your life if they have had a physical this year?
So to help spread awareness and celebrate Movember this is my kick-ass skittle Mustache MAN-icure. Each color represents a different men's related cancer:
This MANicure was super fast and easy with the help of the Sticky Nails vinyl "Accent Nail Stencils" which conveniently has cute little mustaches as part of the pack. There are 10 mustache stencils in the pack – 4 small and 6 medium-sized. On my small nail beds, my pinky was the only nail too small for the medium-sized sticker. Want to learn more about Sticky Nails? See my full review.
Want more Movember Mustache MAN-icures? Check out the Black Cat Nails Holiday Pinterest board for more awesome design ideas.

Mustache Skittle MAN-icure – Get The Look
For this look I used:
China Glaze – Frostbite
Kleancolor – Neon Purple
Opi – No Room For the Blues
Maybelline – Iced Queen
New York Color – Classy-Glassy
China Glaze – Liquid Leather
Sticky Nails – Accent Nail Stencils (stencils)
Follow Sticky Nails:
BlogEtsyFacebookInstagramPinterest