Green Glowing Gems – Born Pretty Store 3D Colorful Opal Review
When I saw these stones I knew I wanted to create a look that really showed them off but at the same matched their dimensionality. I wasn't sure at all what look I wanted to create until I pulled this beautiful, and perfectly matching, glittery green shade called "Sea Glass" by Pure Ice. Look at glowing green glittery goodness!
Using my Sticky Nails striping tape in multiple widths I easily creating the "glowing" lines effect with a classic purple and green color combination. Last I used tweezers and some super glue to apply the green opal gems in the center point of the lines on each nail. Green glowing gems! What do you think of this look?
Born Pretty Store 3D Colorful Opal Studs/Sticker Quick Review
These opals are big, bold and beautiful! They are artificial stones that have the dimensionality of real stones – when you turn them in the light they sparkle all different pearly shades of green and shimmery white. I actually think they look much prettier in person than the product pictures on their site by FAR.
Price – $2.71 at the Born Pretty Store (Pack of 5)
I received 5 stones that were all the exact same size, and 6mm as listed.
Pictured here are the green 3# gems but they come in four different colors – pink, blue, green and white.
These gems are easy to attach using regular super glue. They are advertised as stickers but I couldn't get any "protective cover" off or even see one at all for the life of me.
The stones are really sturdy and durable so you can easily reuse them if they don't fall off.
The studs are on the larger side, not large really – I would call them medium-sized. The do raise off of the nail about 2.25 mm. (I used my digital calipers to measure – geek much!)

Green Glowing Gems Nails – Get The Look
For this look I used:

Get Gemmed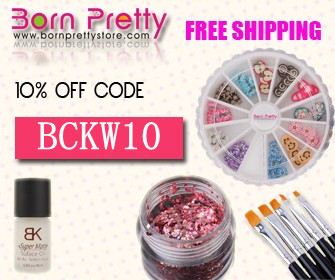 You can get these gems for just $2.71 from the Born Pretty Store. Use my awesome discount code BCKW10 to get 10% off your entire order. Shipping is always free and orders ship within 24 hours. If you haven't checked out the Born Pretty Store, I would recommend it. They have TONS of nail art decorations and supplies at very reasonable prices.