Vintage Rose Sampler – Floral Nail Art for Spring
I'm not normally a fan of flower patterns or probably even ANY flowers on fabrics – but when it comes to nails I seem to break even my own rules. I now LOVE flower patterns and I am so glad that I gave this look a try. Sometimes when I get the urge to try a new look I feel a bit shaky about it – this was one of those manicures. When that happens I always turn to trusty YouTube since I am a visual learner.
There were a couple of techniques I found that I wanted to try. The "swirl" technique seemed like it would be the easiest and fastest. It is super fast, but my first try (yellow index finger) didn't go so well. I learned that you shouldn't swirl semi-dry polish, ever. It makes the polish stringy, it doesn't mix well anymore, and it tends to "dent" more than mix. The mistake I made was trying to do the base for each flower all at once on each nail, then coming back and mixing the lighter color. This created a semi-dry base and when I attempted to swirl the lighter color it just didn't work out so well.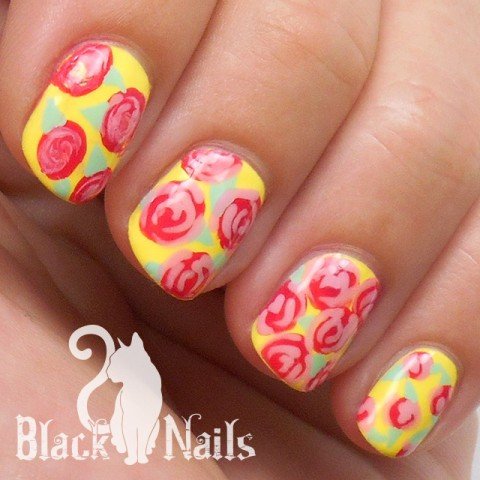 I personally prefer the spread out flower patterns, but I like both. When you spread the flowers out more you get to see more of the base color – so I guess, it's all preference. I like the brush and swirl techniques appealing – they both look really different, but both are neat! All in all I tried:
My second attempt at the swirl technique is this pastel version. I did a full hand of the swirl technique which I think turned out much better. The difference is I did each individual flower one at a time – I put the drops of paint side by side and then immediately swirled them together. For a tutorial see the inspiration videos listed below. Such a cool effect! Now I just need smaller brushes to try the brush technique again…
Inspired by:
Vintage Rose Floral Nail Art – Get The Look
For the main yellow look I used:
For the secondary, pastel floral skittle manicure I used:
Related Posts - More Nails!