NOTD: Sparkly Candy Corn Halloween Nail Art
Glittery candy corn for Halloween! This is the last manicure I have saved up before I broke my nails (womp womp). This idea came from the Halloween Nail Art Wheel Party which was a lot of fun.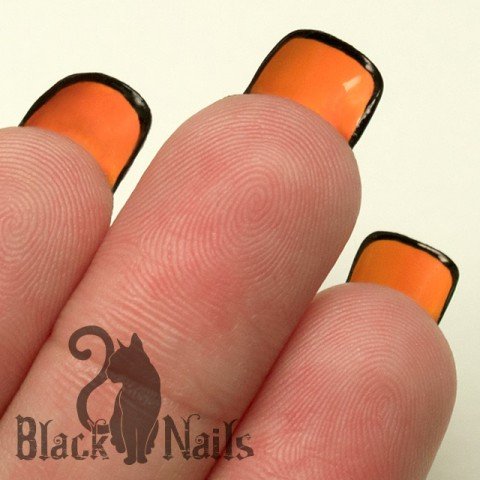 On the underside of this manicure is an extra pop-of-color surprise – orange outlined with black. To create this look I put on two coats of white underneath my nail tip, then two coats of the orange. After a little clean-up I used a black sharpie to create the outline for a little added touch.
Sparkly Candy Corn – Get The Look
For this look I used:
Sinful Colors – Black on Black
Sinful Colors – Snow Me White
Sally Hansen – Mellow Yellow (xtreme wear)
Wet n Wild – Sunny Side Up
Zoya – Solange (pixie dust)
Zoya – Beatrix (pixie dust)
Wet n Wild – Hallucinate (wild shine, glitter topcoat)
Sharpie – Black
Bundle Monster – Small pointed brush
Related Posts - More Nails!