Nail Care Routine Spring 2013
Because of my love of nail art I have decided to grow out my nails and take better care of my hands. My cuticles have always been dry and ragged, I guess I just have naturally very dry skin. I am also prone to tearing, splitting and breaking nails because they are so weak.
Here are my naked little nubbins BEFORE I started to care for them.
It is time for a change and I have a plan I will share with you.
Basic Nail Care Routine
After a bunch of online research and snooping around, which lead me to write this comprehensive article, I believe I have come up with an awesome plan to get my hands and nails into shape and growing long:
No Picking!  – this is a big one, no more picking of splits, tears, hangnails or nail polish – this just furthers the cycle
Protection – this means not using my nails as tools, wearing gloves while doing chores and keeping my nails polished. Keeping them polished will help protect them and stop the picking by adding an extra barrier
Immediate Repair – instead of picking I will repair the damage so that it can grow out
Hand Care – regular hand, cuticle and nail maintenance (see below)
Nourishment – health from the inside by eating a balanced diet including more lean protein and fruits and vegetables (including at least 2 glasses 1% milk daily for both calcium and protein), drinking more water, and adding a daily multi-vitamin (I use Centrum Ultra Woman) and Biotin supplement
Circulation – daily exercise for increased blood flow and circulation so my hands and feet are never cold. I do derby, P90x, running and have an elliptical machine and other misc. home gym equipment.
Immediate Repair
This means trimming and filing away all damage such as tip tears and splits and hangnails as soon as possible. I don't trim my cuticles, only the dead skin.
Since my nails will (hopefully) be getting longer as well, I purchased a nail repair kit so I can immediately repair any bad tears. I was really hoping to find Orly Nail Rescue, but was not able to, so I ordered IBD 5 Second Brush-On Nail Glue and IBD 5 Second Nail Filler Powder from Amazon instead. I am hoping this will work just as well (I will do a review once I get the package).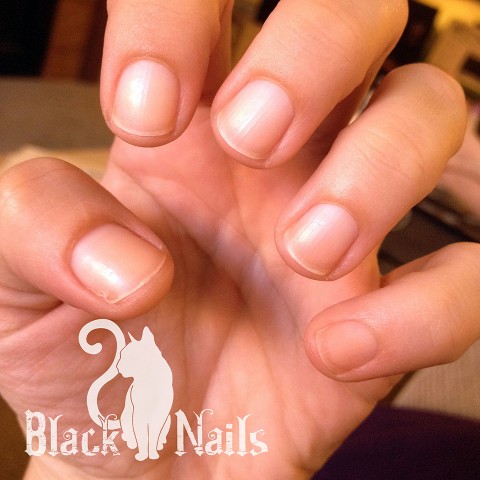 Hand Care – Hand, Cuticle & Nail Maintenance
The first thing that I did was trim all my nails down because they were breaking and chipping due to all the splits and damage, and splitting down to the healthy part. Clipping worked to stop the cycle by getting rid of all the damage.
For the past week I have been using the following routine and I have seen a HUGE improvement, especially in the condition of my cuticles. Just compare the two pictures above which are only 4 days apart!! I know I didn't believe the results and had to keep double checking the dates on the pictures, it is seriously working!
Lotion – using a rich hand lotion every time I get my hands wet
Cuticle Potions – using a cuticle cream or oil paired with a nail growth serum and regularly pushing my cuticles back using an orange stick
Deep Conditioning – 2-3 times a day I slather on the cuticle potion above plus a dab of cocoa butter followed by a nice cuticle massage. I then slather on my rich lotion and keep my hands in cotton gloves for 30-120 minutes (as long as I can stand leaving the gloves on!)
Night Conditioning – same as above, except I leave the gloves on all night (same goes for the feet)
Basecoat Treatments – today I purchased Opi Nail Envy Natural Nail Strengthener (Original) and Essie Protein Basecoat to use underneath each manicure. I plan to use two coats of nail envy, followed by one coat of protein basecoat. I will do a review of these once I have used them for a couple weeks.
Topcoat Protection –  I always use 2 thin layers of top coat as well. Right now I use the Sinful Colors Top Shine but would like to try out others
Nail Shaping – I purchased an Opi crystal nail file, but I usually just clip my nails into shape. Only do this though if it doesn't cause bends or breaks in your nail bed. Since my nails are so weak right now this sometimes happens to me so I am going to try filing instead, in one direction only of course.
Clean Up – regularly trimming nails and hangnails as needed, pushing back cuticles, and dead skin removal using a battery powered shaper/grinder with attached pointed grinder
Stain Removal – Right now I do not have an issue with this, probably because I use two coats of basecoat under each manicure. I still use a baking soda and hydrogen peroxide paste to clean my nails with a toothbrush once a week to keep them clean (see the video in resources section by pinksofoxy for instructions)
Since I work from home I keep all my products on my desk so they are handy and in plain sight as a reminder. My job mainly involves typing so I can wear gloves while I work but I do find it slightly uncomfortable. But it is totally worth the temporary discomfort because it works wonders! Don't forget to use the bathroom before putting on your gloves, ha!
Products I Am Using Now
Trim Nail Clipper – I really like these because they are sharper than any other brand I have tried, and I have tried about 10 different ones
L.C. Stainless Cuticle Nipper – again, I do not trim my cuticle, only hangnails and other dry skin
Salon Plus Electric Manicure Nail Shaper/Grinder – I only use the silver tip to clean dry skin out from my nail bed by the cuticle
Opi Crystal Nail File
Sally Hansen Vitamin E Nail and Cuticle Oil – I like this, but very little of it is actually vitamin E so I am going to try switching to pure vitamin E
Sally Hansen Natural Nail Growth Activator
Equate Advanced Skin Therapy (Walmart) – rich lotion. Equivalent that I used in the past but cannot tell the difference from the Walmart brand is Lubriderm Advanced Therapy Lotion for Extra-Dry Skin
Palmer's Cocoa Butter – deeper moisturization than lotion
Neutrogena Hand Cream – basically feels like petroleum jelly, but does wonders for extra, extra dry skin really fast
Generic Manicure Sticks – can get these bamboo sticks from any beauty store. I like the ones that also have a pointed end for easy polish clean up around the cuticle
Generic Toothbrushes – the cheap ones you get 2-6 a pack to clean my nails
Centrum Ultra Women's Multi-Vitamin Tablet
Renewal Strengthening Nail Polish Remover Acetone (Rite-Aid)
Rubber kitchen gloves
Products I am looking forward to trying:
Natrol Biotin (1000 mcg)
Nail Tek Foundation II – nail strengthener alternative to Opi Nail Envy (see review in resources)
Duri Cosmetics Rejuvacote Nail Growth System – nail strengthener, same as above
Orly In A Snap – top coat
Cult Nails Wicked Fast – top coat
Sally Hansen Insta Dri Drops – top coat
Seche Vite Dry Fast Top Nail Coat – top coat
Essence Better Than Gel Nails – top coat
Burt's Bees Lemon Butter Cuticle Creme
Hobe Labs Vitamin E Oil – once my cuticle oil runs out I am going to fill it with this instead. Much cheaper!
Researching less drying alternatives of polish clean-up and removal than acetone
Resources
Here are the best resources I found and articles that I read while doing research on how to take better care of my hands and nails:
Related Posts - More Nails!