Mardi Gras Flowers – Sinful Colors Mystery Moonshine Halloween 2014
I attempted some more hand drawn art, lol! I'm so intimidated by hand drawn nail art so even just these little flowers is scary for me – but I love how this turned out. And it's so very easy and this polish from Sinful Colors called "Mystery Moonshine" makes it totally Mardi Gras appropriate!
Here is a swatch of Mystery Moonshine from a full review of the Sinful Colors Halloween 2014 Wicked Colors collection I did awhile ago. Such a pretty glitter and really easy to use.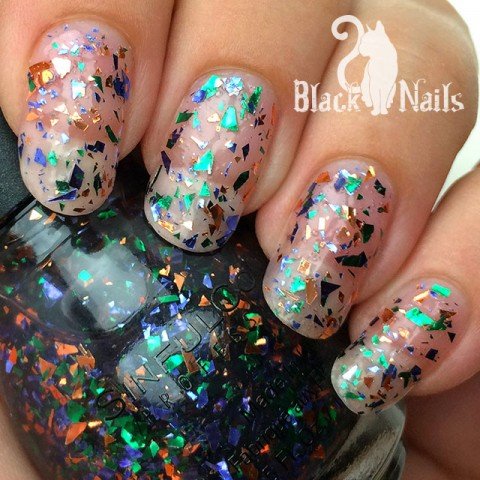 To get the matte black chevron stripe I used the Sticky Nails Nail Tip Stencils and Sinful Colors "Whipped". Like most matte polishes Whipped is a bit difficult to work with, so my lines aren't as clean as I usually like. But the effect is cool – love glitter and black matte together.
Last for some added decoration I added a few flowers and leafs on my ring finger using a dotting tool and a detail brush. I'm not too happy with them, but I find hand drawn art super intimidating. I have an unsteady hand so anything can happen when I paint. Overall, the look came together.
Mardi Gras Flowers – Get The Look
For this look I used:
Sinful Colors – Mystery Moonshine
Sinful Colors – Whipped (matte)
Sticky Nails – Nail Tip Stencils
Sinful Colors – Mardi Gras (sinful shine)
Sinful Colors – Unicorn
Bella – Lime Green (acrylic paint)
Bundle Monster – Large dotting tool
No brand tiny detail brush
Craft tweezers
Seche Vite – Dry Fast Top Coat
Follow Sticky Nails:
BlogEtsyFacebookInstagramPinterest
Related Posts - More Nails!