I just loved this "Eye of Sauron" design from Chalkboard Nails and had to try it out for myself. Here is the first attempt followed by the second, where I tried a smaller eye pupil.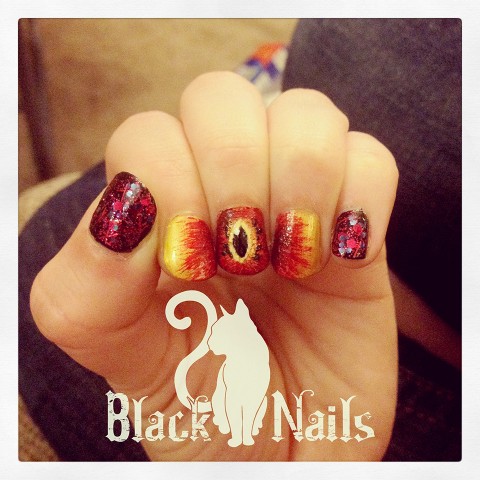 This design took a lot of trial and error to find the right brushes to (somewhat) replicate Chalkboard Nail's brush strokes with. I ended up using:
Tiny dotting tool (Bundle Monster)

Small angled brush (Bundle Monster)
Short striper (Worldwide Winning Nails #306 Nail Art)
So I tried two different sized eyes on each nail so I thought this was funny!
For this look I used:
Wet n Wild – The Wonder Yellows
Liquitex – Acra Crimson (acrylic artist color)
Golden Acrylics – C.P. Cadmium Yellow Dark (mixed with above to create an orange)
Golden Acrylics – Raw Umber
China Glaze – Liquid Leather (black on thumb and pinky)
Hard Candy – Fireworks (glitter over thumb and pinky)
Sinful Colors – Snow Me White
Related Posts - More Nails!