Easy Stencil Gold & Pink Interview Nail Art
I like to match my nails to special occasions and lately I have been gathering new clients and going on a lot of interviews. So of course I had to paint some awesome interview appropriate nails that weren't too over the top but still confident and cheeky.
As a base for this manicure I used two of my new gold nail polishes – a super sparkly gold base that almost looks like foil and an awesome gold glitter that has little pink hex glitters in it! I am not usually a fan of gold as a metal, but as usual with nails I seem to like everything. It took me awhile before I tracked down a decent gold for my skin tone – most made my skin look ashy, maybe since I have an olive/yellow skin undertone? I'm not sure – but most gold polishes just looked horrible next to my skin. But this one, I like!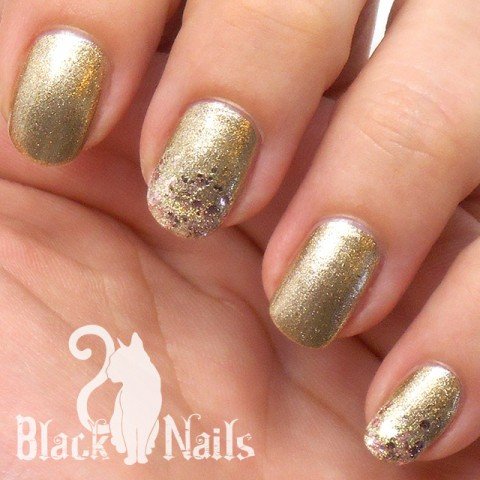 The real star of the show though is the Sticky Nail accent nails. I used the Sticky Nails "Fancy Lady" nail art stencils to really add some punch to this manicure using a hot pink. In my own cheesy way, the nails gave me a confidence boost during my interviews. Especially when thinking of the cheeky names – I choose the appropriate "Like a Boss" stiletto pumps and the "Tie it Together" pretty bow for the accent nails and added a glitter french tip. Because, I'm golden on these interviews! 😉
Gold & Pink Interview Nail Art – Get The Look
For this look I used:
The "Fancy Lady" sticker set has more than just these stencils, the complete set includes:
8 big hearts

8 fancy perfume bottles
8 stiletto pumps
8 pretty bows
6 little 3-heart strips
Short and long strips
Follow Sticky Nails:
BlogEtsyFacebookInstagramPinterest
Related Posts - More Nails!