4th of July Water Marble with White Stars Nail Design
Happy Fourth of July (Nail Art)!!
I wanted to try out water marbling again, since my first attempt didn't even turn out photo worthy. What better time than a holiday when there is time! I was inspired to first try water marbling because of the ever so SERIOUSLY awesome and talented Mucking Fusser. Check out her serious skills.
Here is how my 4th of July water marbling turned out.
I wanted to make it a little more festive, and stamping is another technique I have had trouble with, so I decided to give that another shot as well and stamped some white stars on top. I love how this nail design came out. Have a great Fourth of July!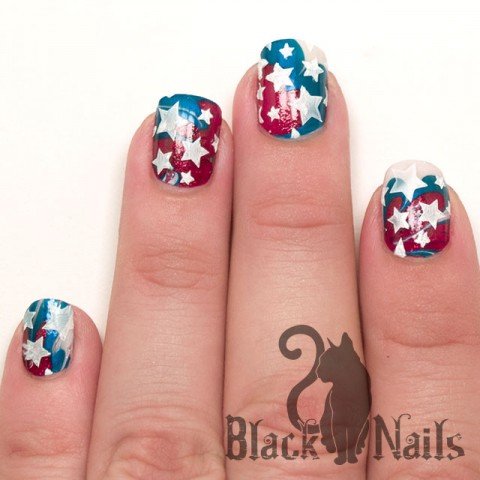 Get The Look
For this look I used:
Sally Hansen – I Do (nude base)
Sinful Colors – Snow Me White
Sinful Colors – Midnight Blue
China Glaze – Ruby Pumps
Glass bowl filled with room temperature tap water
Toothpicks
Mash – Stamp Plate 49, Scraper and Double Sided Stamper
4th of July Nail Art Design Ideas
Here are some other great tutorials and nail designs you might want to rock today:
Related Posts - More Nails!